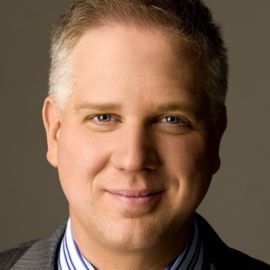 Glenn Beck's "The Glenn Beck Program" three hour radio program is currently America's third highest-rated national talk show. As the newest member of the Fox News Channel, he recently launched his television program aptly titled "Glenn Beck".
Glenn Beck, 2008 Marconi Radio Award winner, is the host and star of the nationally syndicated radio talk show "The Glenn Beck Show". His program sets a new standard for the talk radio format. Heard on over 300 stations and syndicated by Premiere Radio Networks, it is presently the third highest-rated national radio talk show among adults ages 25 to 54. The daily discussion is focused on the news of the day - politics, society and current affairs.
As the newest member of the Fox News Channel, his news format program launched in January of 2009 is one of the fastest growing TV shows in cable news. Known for his quick wit, candid opinions and engaging personality, he daily attracts millions of viewers and listeners. Beck made his television debut in May of 2006 on CNN Headline News with his self-titled topical talk show and quickly soared in popularity. Within one year, ratings in all demographics increased by double digits. He enjoyed a 65 percent increase in total viewers and an unprecedented 85 percent jump in the 25-54 demographic. In addition, he joined ABCs Good Morning America as a regular contributor.
Beck is the author of three New York Times Bestseller List titles. His first #1, "An Inconvenient Truth", was released in November 2007. His newest book, "The Christmas Sweater" peaked at #1 on two separate occasions in the fall of 2008. He is also the founder and editor of the entertainment magazine "Fusion".
Glenn Beck made his radio debut at the age of 13 in Seattle, and grew up in nearby Mount Vernon. After graduating high school, he secured jobs as a Top 40 DJ at stations from Baltimore and Houston to Phoenix and New Haven, CT. Unfortunately, at the age of 30, Beck lost his passion for radio and everything else as he was consumed by alcoholism and drug addiction. It was only after he came to terms with his past and remained sober that his life found a new direction. Beck discovered new love (his second wife, Tania), religion (he was baptized Mormon), and a new vision of his career he would pursue talk radio.
After his sobriety and life reversal, Beck received a call from an agent interested in representing him. Only days later, he received an offer to host his own talk radio show on WFLA-AM in Tampa, Florida. Despite inheriting the 18th placed position, his new program landed the #1 position in his first year. Within 18 months, Premiere Radio Networks, America's leading radio syndication company, offered Glenn a national syndication opportunity. In January 2002, "The Glenn Beck Program" debuted on 47 stations. Today, the show is heard on over 300 stations and on XM satellite Radio.
Glenn is married with four kids and resides in New York City.
Videos
---
Related Speakers View all
---
Sandra Bullock

Actress and Producer; "The Blind Side" and "Miss Con...

Howard Stern

American Radio Personality

James Patterson

NY Times Best-Selling Author & Reading Champion

Dr. Phil McGraw

"Dr. Phil" Host, NY Times Bestselling Author, Psycho...

Kim Kardashian West

Reality TV Personality, Fashionista, Mother

Beyonce Knowles

American Singer, Songwriter, Record Producer, Actres...

Rush Limbaugh

Host of "The Rush Limbaugh Show"

Sean Hannity

"The Sean Hannity Show" on iHeartRadio, Fox News Cha...

Ellen DeGeneres

TV Host, Producer

Oprah Winfrey

CEO, OWN

Gordon Ramsay

Celebrity Chef, Restaurateur, Cookbook Author and Ju...

Ryan Seacrest

Television Host and Personality, Known for "American...

Matthew McConaughey

Academy Award-Winning Actor Known for "Dallas Buyers...

Jon Stewart

Talk Show Host, Comedian and Producer

Jay Z

Renowned Rapper; Hits Such as "Empire State of Mind"...

Peter Jackson

Director Known for the "Lord of the Rings Series" an...

Steven Spielberg

Oscar-Winning Director, Producer, Writer

Michael Bay

Film Director and Producer Known for his Use of Fast...

Mark Wahlberg

Producer of HBO's "Entourage," Actor, Model and Form...

Leonardo DiCaprio

Academy Award Winning Actor, Known for "Titanic," "I...
More like Glenn