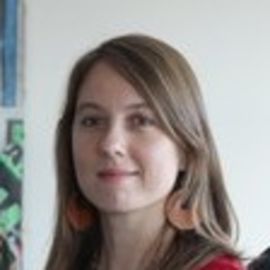 Gwenaëlle Gobé
Creative Director of Emotional Branding and Emotional Branding Studios and Creator of the documentary "This Space Available"
Gwenaelle Gobe is a documentary filmmaker, photographer, speaker, storyteller, and visual artist. Gwenaelle is also the Creative Director of Emotional Branding and Emotional Branding Studios, where she specializes in creating visual works that explore the ideas of sustainability, communication, and connection through design.
Her award-winning documentary "This Space Available" on the topic of visual pollution screened in festivals internationally including the TIFF Next Wave, Mumbai Film Festival and Moscow Film Festival and at institutions such as Columbia University, The New School, The Warsaw Museum of Art and Lodz Design Festival. She is also the recipient of the Kodak film grant and Panavision grant as well as the winner of the Best Documentary Award for King of the Line, at BE Film Underground Festival and the recipient of the "Best of America" Photography Contest, Reader's Digest Magazine.
Her print work has been published in the notorious Swindle Magazine, Desert Island's Smoke Signal, 3x3 Illustration Annual, Shepard Fairey's Subliminal Projects Gallery, The Institute of International Visual Arts in London, the Substation Gallery in Singapore, and on Obey The Giant Clothing.
Additionally, Gwenalle is an accomplished and eloquent keynote speaker who has global speaking experience and is a frequent guest on panel discussions. She has given conferences for Columbus College of Art and Design, The New School, Mastercard, The Warsaw Museum of Modern Art, and Tom's Shoes.
She has a Master's degree from California Institute of the Arts.
Videos
---
Related Speakers View all
---
Lisa Kristine

Fine Art Photographer Lisa Kristine specializes in i...

Angélica Dass

Artist and Photographer

Etgar Keret

Best-Selling Israeli Writer Award-winning Filmmaker

Mike Fleisch

Managing Partner, DPICT

Abby Kraftowitz

Freelance Photographer

Stefan Sagmeister

New York-based graphic designer and typographer

Frédéric Brenner

Artist, This Place

Sophie Calle

Writer, photographer, director, installation artist,...

Casper Balslev

Casper Balslev / Director & Photographer

Mark Venaglia

Contemporary Realist Artist

Lauren Greenfield

Artist, documentary photographer and documentary fil...

Jason Reeves

Jason Reeves is an American singer-songwriter and mu...

Sebastian Copeland

Photographer, Extreme Athlete, and Environmental Act...

Sebastião Salgado

Sebastião Salgado captures the dignity of the dispos...

Camille Seaman

TED Fellow Camille Seaman photographs big ice.

Wendy Dent

Award Winning Writer/Filmmaker of Socio-Political Is...

Larry David Eudene

Larry David Eudene has many talents above acting in ...

Paul Alexander

Paul Anderson is a worldwide famous photographer, so...

DJ Crash

DJ Crash is the DJ that everyone talks about who has...

Max Roper

Max Roper is a photographer to musicians like Kanye ...
More like Gwenaëlle