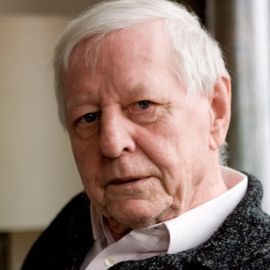 Hans Magnus Enzensberger
German Author, Poet, Translator and Editor
Hans Enzensberger is a German translator, editor, author, and poet. Born in Bavaria, he was just 15 years old when the Third Reich collapsed. After studying German literature, philosophy, and language at the universities of Erlangen, Freiburg, and Hamburg, Enzensberger earned his doctorate at the Sorbonne in Paris.
Enzensberger writes in both English and German. In addition to novels, he has written more than five volumes of poetry, including collections for children. Poet Charles Simic, quoted in the Guardian, praised the large scope of Enzensberger's writing: "[H]e has the largest range of subject matter, employs a variety of styles.… Almost every one of his poems, be they lyric, dramatic or narrative, has a polemical quality."
His various awards and honors include the Georg Büchner Prize, the Heinrich-Böll Prize, and the 2002 Prince of Asturias Award for Communications and Humanities. In 2009, he received a Griffin Poetry Prize Lifetime Recognition Award. Poet and Griffin trustee Carolyn Forché noted the precision of Enzensberger's diction and style, describing it as a "lively and cornucopious."
Enzensberger has been the editor of the book series Die Andere Bibliothek since 1985. He lives in Munich.
Related Speakers View all
---
Jeremy Rifkin

Leading Global Technologist, Futurist and Authority ...

Sean Carroll

Geneticist & Evolutionary Scientist

Tim Berners-Lee

Inventor of the World Wide Web

Jared Diamond

Author of the Pulitzer Prize Winning "Guns, Germs an...

Niall Ferguson

British-American Historian; Laurence A. Tisch Profes...

Richard Florida

Renowned Economist and Author, The Rise of the Creat...

Thomas Friedman

Three-Time Pulitzer Prize Winning Commentator, New Y...

Francis Fukuyama

Global Affairs Thought-leader and Professor; Author ...

Murray Gell-Mann

Murray Gell-Mann started early. He entered Yale Univ...

Daniel Goleman

Internationally Recognized Psychologist & New York T...

Dr. Jane Goodall

Internationally Renowned Primatologist, Founder of t...

Al Gore

45th Vice President of the United States, Nobel Peac...

Jonathan Haidt

Psychologist, Widely Considered Expert in Psychology...

Daniel Kahneman

Eugene Higgins Professor of Psychology; Author, "Thi...

Garry Kasparov

World Champion Chess Expert and Strategist

Rem Koolhaas

Dutch Architect, Architectural Theorist, Urbanist an...

Ray Kurzweil

Chairman, Kurzweil Technologies & A Director of Engi...

Lawrence Lessig

Director, Edmond J. Safra Center for Ethics, Harvard...

Amory Lovins

Co-Founder and Chief Scientist of Rocky Mountain Ins...

Tom Peters

Speaker, Professional Agitator at Tom Peters Company...
More like Hans