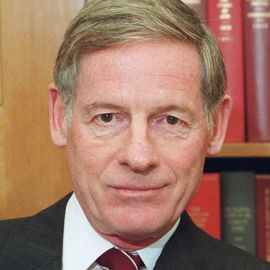 Harvey C. Mansfield, William R. Kenan, Jr., Professor of Government, studies and teaches political philosophy. He has written on Edmund Burke and the nature of political parties, on Machiavelli and the invention of indirect government, in defense of a defensible liberalism and in favor of a Constitutional American political science. He has also written on the discovery and development of the theory of executive power, and has translated three books of Machiavelli's and (with the aid of his wife) Tocqueville's Democracy in America. His book on manliness has just been published. He was Chairman of the Government Department from 1973-1977, has held Guggenheim and NEH Fellowships, and has been a Fellow at the National Humanities Center. He won the Joseph R. Levenson award for his teaching at Harvard, received the Sidney Hook Memorial award from the National Association of Scholars, and in 2004 accepted a National Humanities Medal from the President. He has hardly left Harvard since his first arrival in 1949, and has been on the faculty since 1962.
Videos
---
Related Speakers View all
---
Jimmy Wales

Co-founder of Wikipedia and Mobile Phone Carrier The...

Steven Mazie

Associate Professor of Political Studies, Bard High ...

An Phung

Multimedia Journalist

Kay Warren

Christian Author

Rosabeth Moss Kanter

Author & Harvard University Professor Who Specialize...

Kurt Andersen

Host, "Studio 360 from PRI and WNYC"; Author

Shirley Tilghman

Molecular Biologist; Pres., Princeton University

Moby

Musician, DJ, Photographer

Dan Gilbert

Psychologist; Happiness Expert

William Easterly

Professor of Economics at New York University; Co-Di...

Anthony Fauci

Dr. Anthony S. Fauci, a native of Brooklyn, New York...

Lawrence Summers

Charles W. Eliot University Professor, Weil Director...

Ingrid Newkirk

President, PETA

Peter Thiel

Former CEO and Co-founder of PayPal; Technology Entr...

Jimmy Carter

Former United States President (1977-1981), Author

Tom Stewart

Editor, Harvard Business Review

Cody Adams

Managing Editor of The Floating University.

Ayaan Hirsi Ali

Renowned Political Leader; Human Rights Activist; Be...

Virginia Postrel

Writes on The Intersection of Commerce & Culture; Au...

Parag Khanna

The World's Leading Geo-Strategist; Author of Second...
More like Harvey