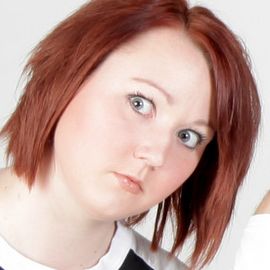 Heroine Addiction is an All-Female Improvisation Troupe based in Dallas, TX. These ladies bucked the system, navigated their way out of the kitchen, and met at the renowned Ad-Libs School of Improvisation where they decided that YES - chicks can be funny.
Heroine Addiction is: Hale Storm (Lynsey Hale), EstroJen (Jenny Clifton), Dawn Syndrome (Dawn Douglass), Christa Meth (Christa Haberstock), and AuroraLauriealis (Laurie Williamson). Please don't reveal to anyone our true identities.
Jenny Estrojen Clifton ate paint samples as a child. Her favorites flavors were eggshell and mohave sunset, and she now has an unhealthy fondness for people in orange aprons. She is a founding member of Anon-Anon, a 12-Step program for people addicted to 12 Step programs. She doesn't litter, and thinks you shouldn't either.
Lynsey Halestorm Hale is a Day Walker that has been alive since the invention of the printing press. She was the inspiration for the shrew in Shakespeare's The Taming of the Shrew. As a result of being an only child, she developed the ability of telekinesis at the age of 4, and things have been on the move ever since.
Dawn Dawn Syndrome Douglass wonders where E*Trade found toddlers with large vocabulary, mad computer skills and financial acumen for their commercials. The worst gift she ever received was Star #402v6e0 until she discovered she could take it as a property tax deduction. She thinks black jelly beans are evil.
Christa Christa Meth Haberstock invented clocks, floating and the concept of zero. She once punched a bird for winking at her and went on one date with a boy named Bliss. She had to pay for her own dinner, so they never went out again. She lives in America legally with her husband and children where they enjoy burnin doin the neutron dance.
Laurie AuroraLauriealis Williamson is just as her name sounds: a natural light display in the sky, particularly in the polar regions, caused by the collision of charged particles directed by the Earth's magnetic field. Or nothing at all like it. Either way, she may or may not be seen in Fairbanks, Alaska.
Click Here to register and get pricing on booking Heroine Addiction for your next event!
Reviews
---
Ad Libs, Deep Ellum

I love the originality. Every show is different because every audience is different. The team is quick witted and responsive to the crowd. Will see them again!


Anna Fritzel-Shows
Ad Libs, Dallas 2/25/11

The all female troop was great. The MC had original, funny down to earth material. The HA girls have a great synergy and complement each other well. It was a great stress free evening of laughter. I can't wait until the next show 3/18/11.

Donna Qualls
2-3-2011 at SMU

The show was hilarious! I couldn't stop laughing and I still start to laugh when I think back to some of the scenes these ladies performed. I can't wait to see the next show

Michael
November 2010 in Dallas

I've seen a couple a different improv troupes in the DFW area, and this one is unique. They are an all-female group. They took charge of the stage, and kept the audience engaged the entire time. Definitely a must see!

Sandra Martin
Ad-Libs in Dallas

These girls are funny. They used my suggestion of a unicorn, and it almost made me do a spit take. Go see them!

Jimmy Qualls
February 25th at Mouth in Dallas

This group is hilarious! They are always on their toes and thinking fast. They work together well, and the scenes they create from the (sometimes strange) audience suggestions are funny and original. I have seen this group more than once, and they never disappoint.

Michelle Portwood
A few months ago

They are a great group of ladies who are very entertaining. They love getting the audeince involved and are great at making others laugh. Worth going to see everytime!

kami Kreaps
Women's Symposium at SMU

Heroine Addiction's performance was hilarious. Their on-the-spot wit was so impressive. It's hard to be that funny. They kept the crowd entertained through and through. The ladies of HA themselves are great, so nice and fun! Thank you for the lovely show!

Southern Methodist University

· Program Council
Ad-Libs in Dallas

Heroine Addiction's show is pee-in-your-pants funny. These girls are hilarious! I don't know how they think of all this stuff right off the top of their heads with suggestions from the audience. Amazing amazing. I highly recommend their show! and will be back for more.

Nancy Craig
Get notified of new talks and events.
Follow