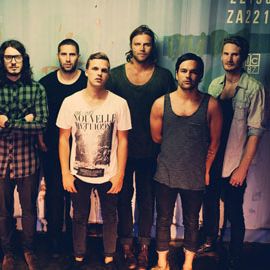 Hillsong United
There's a generation across the earth who are being awakened to real love and who are starting to walk in it.
There's a generation across the earth who are being awakened to real love and who are starting to walk in it. Rising up with hearts as one; our value nailed to a cross that we would find value in the broken and the hurting and the lost. Hillsong United seeks to give voice to this generation. Birthed and anchored in the youth movement of Hillsong church, UNITED is about seeing a generation encounter God in a way that changes us from the inside out; so that together we can change our world.
"One of the strengths of our Church is the way the youth are embraced and encouraged to be a part of all that is happening," says Joel Houston, the Creative Director of Hillsong Church. "It's what makes United distinctive. We're not just a band. The very nature of who we are and what we do is inclusive. It's a discipling model. Everything we (the current band) do is because someone gave us an opportunity."
Hillsong United have also had an amazing opportunity to take what is happening 'at home' to others. They have worshipped in Churches, stadiums and open fields in Asia, Africa, Europe and the Americas, and through powerful praise and passionate worship, they have seen literally tens of thousands of people connect with Jesus.
With songwriters as well as worship leaders: Joel Houston, Jad Gillies & JD at the forefront. "We're just getting started," says Joel. "There are a lot of people who need to know Jesus. If our worship is just great youth meetings, nice songs, lots of jumping around and a few CDs, then we're missing it. Our vertical expression must have a horizontal effect. So, we'll continue to worship, praise and honor God with heart, soul, mind and strength the best we know how, but the fruit of that must be a generation who are totally committed to reaching the lost and helping those who need help, locally and globally."
Click Here to register and get pricing on booking Hillsong United for your next event!
Get notified of new talks and events.
Follow
Related Speakers View all
---
Kari Job

Dallas-based international worship leader.

Matt Redman

Matt Redman is a Christian worship leader and songwr...

Kristian Stanfill

Well know recording artist and worship leader.

Gungor

A liturgical post rock musical collective

Casting Crowns

Casting Crowns is a Grammy Award and Dove Award winn...

Third Day

Christian Rock Band

Jesus Culture

Jesus Culture Music exists to ignite revival in the...

Shane & Shane

Shane & Shane has cemented its status as one of cont...

Chris Tomlin

Contemporary Christian Music Artist; Worship Leader

All Sons and Daughters

The story of All Sons & Daughters begins with artist...

Martin Smith

Christian Musician and ex band member of Delirious

Brenton Brown

Brenton Brown is an author of the modern worship son...

Ben Cantelon

Soul Survivor has been consistent in it's developmen...

Aaron Keyes

Aaron has served as the worship pastor at Grace Fell...

Brett Younker

Brett Younker is a worship leader and songwriter bas...

Christy Nockels

Christian Musicians

Chase Callahan

Born and raised in Greenville, SC, Chase Callahan is...

Keith and Kristyn Getty

Keith and Kristyn Getty have been at the forefront o...

Fee

Steve Fee remembers standing on a stage before his h...

Rush Of Fools

Sometimes aspiring artists spend years and years dev...
More like Hillsong