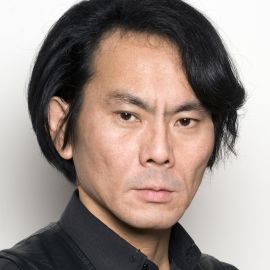 Hiroshi Ishiguro received a D.Eng. in systems engineering from the Osaka University, Japan in 1991.
He is currently Professor of Department of Systems Innovation in the Graduate School of Engineering Science at Osaka University (2009–) and Group Leader (2011–) of Hiroshi Ishiguro Laboratory at the Advanced Telecommunications Research Institute (ATR).
His research interests include distributed sensor systems, interactive robotics, and android science. He has published more than 300 papers in major journals and conferences, such as Robotics Research and IEEE PAMI.
On the other hand, he has developed many humanoids and androids, called Robovie, Repliee, Geminoid, Telenoid, and Elfoid. These robots have been reported many times by major media, such as Discovery channel, NHK, and BBC. He has also received the best humanoid award four times in RoboCup.
In 2007, Synectics Survey of Contemporary Genius 2007 has selected him as one of the top 100 geniuses alive in the world today.
Videos
---
Related Speakers View all
---
Jordan P. Evans

NASA Engineer; Key Leader of the Mars Science Lab Cu...

Maxwell Planck

Virtual Reality Technical Producer and Co-Founder of...

Dr. Kate Darling

Leading Expert in Robot Ethics; Researcher, MIT Med...

Maurice Conti

Director, Strategic Innovation at Autodesk

Cynthia Breazeal

Associate Professor of Media Arts and Sciences, MIT ...

Dr. Heather Knight

Creative Inventor & Specialist in Human-Robot Intera...

Grant Imahara

Electronics and Radio Control Expert; Former Host on...

Marshall Van Alstyne

Boston University Professor, Research Associate at t...

Ben Goertzel

CEO of AI Software Company Novamente LLC and Bioinfo...

Marc Raibert

Founder of Boston Dynamics

Ray Kurzweil

Chairman of Kurzweil Technologies; Inventor; Futurist

Pedro Domingos

Machine Learning, Artificial Intelligence, and Big D...

Andrew Ng

Founder, Coursera

James McLurkin

Roboticist, Inventor, Researcher, Teacher

Maria Bezaitis

Principal Engineer at Intel; Focuses on Technology I...

Raffaello D'Andrea

Entrepreneur, Engineer, Artist, Professor of Dynamic...

Keller Rinaudo

Co-founder and CEO of Romotive, Makers of the Small,...

John D. Carmack

Chief Technology Officer, Oculus VR

Avi Rubin

Expert in Systems & Networking Security; Professor o...

Jerry Kaplan

Serial Entrepreneur, Artificial Intelligence Expert,...
More like Hiroshi