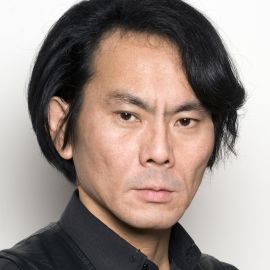 Hiroshi Ishiguro received a D.Eng. in systems engineering from the Osaka University, Japan in 1991.
He is currently Professor of Department of Systems Innovation in the Graduate School of Engineering Science at Osaka University (2009–) and Group Leader (2011–) of Hiroshi Ishiguro Laboratory at the Advanced Telecommunications Research Institute (ATR).
His research interests include distributed sensor systems, interactive robotics, and android science. He has published more than 300 papers in major journals and conferences, such as Robotics Research and IEEE PAMI.
On the other hand, he has developed many humanoids and androids, called Robovie, Repliee, Geminoid, Telenoid, and Elfoid. These robots have been reported many times by major media, such as Discovery channel, NHK, and BBC. He has also received the best humanoid award four times in RoboCup.
In 2007, Synectics Survey of Contemporary Genius 2007 has selected him as one of the top 100 geniuses alive in the world today.
Videos
---
Related Speakers View all
---
Cynthia Breazeal

Associate Professor of Media Arts and Sciences, MIT ...

Ray Kurzweil

Chairman, Kurzweil Technologies & A Director of Engi...

Avi Rubin

Expert in Systems & Networking Security; Professor o...

Jerry Kaplan

Serial Entrepreneur, Artificial Intelligence Expert,...

Isis Wenger

Platform Engineer, Women Who Code Advisor and Founde...

Zach Sims

Co-Founder and CEO of Codecademy

Charles Henderson

Global Head of Penetration Testing & Threat, IBM

Henrik Scharfe

Roboticist

Maria Bezaitis

Principal Engineer at Intel; Focuses on Technology I...

Kazuo Ishiguro

Author of "Never Let Me Go" & "The Buried Giant"

Joseph Hellerstein

Professor of Computer Science, University of Califor...

Jeff Dean

American Computer Scientist, Software Engineer, Goog...

Sam Brin

Co-Founder of Butter Systems

Herbert Hugh Thompson
Chris Urmson

Director of Self-Driving Cars at Google

Matthew Might

Inaugural Director of the Hugh Kaul Personalized Med...

Keller Rinaudo

Co-founder and CEO of Romotive, Makers of the Small,...

Tony Ahn

Social Media. Digital Marketing. Reputation Manageme...

Raffaello D'Andrea

Entrepreneur, Engineer, Artist, Professor of Dynamic...

Ben Goertzel

CEO of AI Software Company Novamente LLC and Bioinfo...
More like Hiroshi