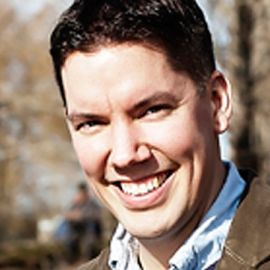 Ian Doescher is an American fiction writer, best known as the author of the plays in the William Shakespeare's Star Wars Trilogy series, Verily, a New Hope (2013), The Empire Striketh Back (2014), and The Jedi Doth Return (2014), parodic retellings of George Lucas's Star Wars film trilogy (1977–1983) in the blank verse and 16th-century style of William Shakespeare.
Ian is a Portland native, and lives in Portland with his spouse and two children. He has a B.A. in Music from Yale University, a Master of Divinity from Yale Divinity School, and a Ph.D. from Union Theological Seminary. He is currently the Director of Nonprofit Marketing at Pivot Group LLC, a full service marketing, research and web agency in Portland, Oregon.
Click Here to register and get pricing on booking Ian Doescher for your next event!
Videos
---
Get notified of new talks and events.
Follow