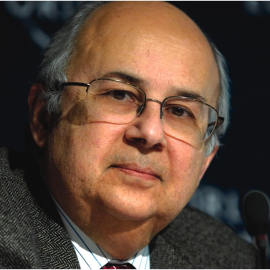 Ismail Serageldin is the director of the Library of Alexandria in Egypt. He chairs the Boards of Directors for each affiliated research institutes and museums and is a distinguished professor at Wageningen University in the Netherlands. He serves as chair and member of a number of advisory committees for academic, research, scientific and international institutions and civil society efforts, including the Institut d'Egypte (Egyptian Academy of Science), Third World Academy of Sciences, the Indian National Academy of Agricultural Sciences, and the European Academy of Sciences and Arts. He is former chairman of the Consultative Group on International Agricultural Research (1994-2000) as well as founder and former chairman of the Global Water Partnership (1996-2000) and the Consultative Group to Assist the Poorest, a microfinance program (1995-2000).
Serageldin has also served as vice president for Environmentally and Socially Sustainable Development (1992-1998), and for Special Programs (1998-2000) at the World Bank. He has published over 50 books and monographs and over 200 papers on a variety of topics including biotechnology, rural development, sustainability and the value of science to society. He holds a Bachelor of Science in engineering from Cairo University and a master's degree and a Ph.D. from Harvard University. He has received 18 honorary doctorates.
Click Here to register and get pricing on booking Ismail Serageldin for your next event!
Links
---
Books
---
Get notified of new talks and events.
Follow
Related Speakers View all
---
Seth Berkley

CEO of Gavi, the Vaccine Alliance; Medical Doctor Sp...

Kandeh Yumkella

Director-General, United Nations Industrial Developm...

Ian Bremmer

President and Founder of Eurasia Group

Meghann Gunderman

Executive Director, The Foundation For Tomorrow, USA

Gillian Tett

Columnist, Financial Times

Angel Gurria

Secretary-General, Organisation for Economic Co-oper...

Jeffrey Sachs

Director, The Earth Institute

Kevin Jenkins

President and Chief Executive Officer, World Vision ...

Matthew Bishop

US Business Editor and New York Bureau Chief, The Ec...

Kathy Calvin

CEO United Nations Foundation

Vali Nasr

Academic and Author Specializing in the Middle East ...

Eric Whitacre

Award-winning Composer

Kishore Mahbubani

Dean & Professor, Lee Kuan Yew School of Public Policy

Joseph Stiglitz

American Economist; Professor at Columbia Universit...

Atsutoshi Nishida

Chairman of the Board, Toshiba Corporation, Japan

Dr. Heriberto Cabezas

Senior Science Advisor to the Sustainable Technology...

Mariette DiChristina

Editor-in-Chief, Scientific American, USA, Editor in...

Paola Antonelli

Senior Curator, Department of Architecture and Desig...

Zanny Minton-Beddoes

The Economic Editor of "The Economist" Magazine

Dr. Hippolyte L. Fofack

Senior Economist and Cluster Leader for Knowledge an...
More like Ismail