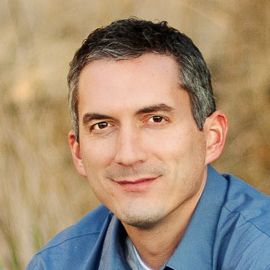 James Dashner
Author of Many Children's Fantasy Series and Adult Books, Including "The Maze Runner" Series
James was born and raised in Georgia but now lives in the Rocky Mountains with his family. He has four kids, which some might think is too many but he thinks is just right. Once upon a time, James studied accounting and worked in the field of finance, but has been writing full time for several years. (He doesn't miss numbers. At all.)
In his free time, James loves to read, watch movies and (good) TV shows, snow ski, and read. (Reading was mentioned twice on purpose.) Most of all, he's thankful that he gets to make a living writing stories and considers himself pretty much the luckiest guy on the planet.
James wanted to be a writer from a very early age. He read every book he could get his hands on, from Superfudge to Narnia, Hardy Boys to Lord of the Rings. And telling stories just seemed like the right thing to do. His parents had an old typewriter and he wrote a few on that just for fun, and boy were they awful. But hopefully he's gotten better over the years. (And thankfully we have computers instead of typewriters.) All the many books he's read, and all the movies and TV shows he's watched, have served to inspire many of his stories. For example, The Maze Runner was heavily influenced by Ender's Game and Lord of the Flies. Whenever James has a tough time writing, he takes a break to watch a movie or read a book, and then the ideas flow so fast he can't get them all down. He'll be the first to admit he's lucky to have the greatest job ever.
Fellow author and friend Shannon Hale once said that whenever you ask an author how they first got published, they always begin with the phrase, "Well, it's a funny story…" Every author has a completely different path, and there's usually quite a bit of luck involved. James is no different, and his story took many interesting, and often discouraging, turns before he became successful. He wrote in detail about the experience in a series of blog posts.
Accolades/What People Are Saying
New York Times, USA Today, Wall Street Journal, Publishers's Weekly and Indiebound Bestseller Books sold in dozens of countries all over the world The Maze Runner film in production, by Twentieth Century Fox. Coming Feb. 14, 2014. A Barnes and Noble Discover Great New Writers selection Several books chosen as Junior Library Guild selections Recipient of many state book awards
Books
---