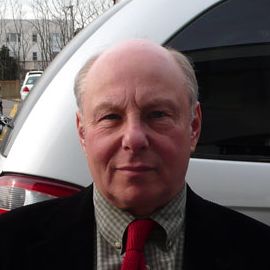 James Howard Kunstler
Novelist, Urban Planning Advocate, Journalist & Social Critic
James Howard Kunstler, is the author of fifteen books, including ten novels and five nonfiction books about suburban sprawl and the high costs associated with an automobile-centric culture. Among his works, The Long Emergency expanded on his past critiques of suburbia and explored the sweeping economic, political and social changes resulting from the end of access to cheap fossil fuels and the impact this will have on the way we live, work, farm and build. His newest nonfiction book, Too Much Magic (summer of 2012), is a critical examination of our over-reliance on the idea that technology will be our salvation from global warming and increasingly costly petroleum-based energy. In it he offers a more sober and realistic view of the road ahead and offers insights in how society can adapt by reducing consumption and following a more sustainable path. He has lectured extensively in the US and abroad about urban design, energy issues and new economies. As a journalist, he continues to write articles and Op-Ed pieces for various periodicals.
Click Here to register and get pricing on booking James Howard Kunstler for your next event!
Get notified of new talks and events.
Follow
Related Speakers View all
---
Sir Ken Robinson

Internationally Acclaimed Expert on Creativity and I...

Thomas Thwaites

Thomas Thwaites is a designer \"of a more speculativ...

Cameron Sinclair

World-Class Visionary; Co-Founder of Architecture fo...

Barton Seaver

National Geographic Fellow, Ocean Conservationist, C...

Julian Treasure

Five time TED.com speaker on sound and spoken commun...

Graham Hill

Founder, Life Edited

Van Jones

CNN Contributor, Best-selling Author; Human Rights, ...

Naomi Klein

Award-Winning Journalist, Columnist, and the #1 Inte...

Larry Brilliant

Pioneering Physician and Leading Public Health Exper...

Stewart Brand

Author, Futurist, Activist, and Visionary

Peter Diamandis

Thought-leader & Founder and Chair of the X Prize Fo...

Jason Clay

Senior Vice President, Food & Markets at WWF

Jamais Cascio

Author, Founder of Open The Future, Co-founder of Wo...

Juan Enriquez

Co-founder, Synthetic Genomics Inc.; Managing Direct...

Malcolm Gladwell

Bestselling Author, "What the Dog Saw," "Outliers," ...

Jonathan Harris

Artist, Storyteller, Internet Anthropologist

Kent Larson

Director of MIT Media Lab's Changing Places Group

Sir Richard Branson

Founder of Virgin Group

Geoff Mulgan

Geoff Mulgan is Chief Executive of the National Endo...

Yves Behar

Founder of fuseproject; Chief Creative Officer of Ja...
More like James