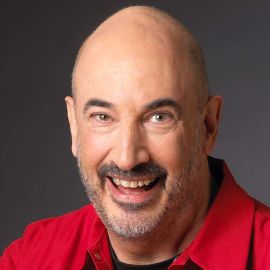 Jeffrey Gitomer is the author of The New York Times bestseller The Sales Bible and The Little Red Book of Selling. All of his books have been number one bestsellers on Amazon.com, including Customer Satisfaction is Worthless, Customer Loyalty is Priceless, The Patterson Principles of Selling, and his latest best-selling books: The Little Red Book of Sales Answers, The Little Black Book of Connections, and The Little Gold Book of YES! Attitude. Gitomer's books have sold millions of copies worldwide. His newest book, The Little Platinum Book of Cha-Ching, was released in 2007 and is quickly following in the footsteps of his previous books by receiving many rave reviews.
Gitomer gives seminars, runs annual sales meetings, and conducts live and Internet training programs on selling and customer loyalty. He has presented an average of 120 seminars a year for the past ten years. His customers include Coca-Cola, D.R. Horton, Caterpillar, BMW, BNC Mortgage, Cingular Wireless, MacGregor Golf, Ferguson Enterprises, Kimpton Hotels, Hilton, Enterprise Rent-A-Car, AmeriPride, NCR, Stewart Title, Comcast Cable, Time Warner Cable, Liberty Mutual Insurance, Principal Financial Group, Wells Fargo Bank, Baptist Health Care, BlueCross BlueShield, Carlsberg Beer, Wausau Insurance, Northwestern Mutual, MetLife, Sport Authority, GlaxoSmithKline, AC Neilsen, IBM, The New York Post, and hundreds of others.
Gitomer's syndicated column, "Sales Moves," appears in more than 95 business newspapers worldwide, and is read by more than four million people every week. He is the host and commentator of Selling Power Live, a monthly, subscription-based sales resource bringing together the insights of the world's foremost authorities on selling and personal development.
Gitomer's WOW! websites, www.gitomer.com and www.trainone.com get as many as 25,000 hits a day from readers and seminar attendees. His state-of-the-art web presence and e-commerce ability has set the standard among peers, and has won huge praise and acceptance from customers.
Online sales training lessons are available at www.trainone.com. The content is fun, pragmatic, real world, and immediately implementable. TrainOne's innovation is leading the way in the field of customized e-learning.
Gitomer's weekly e-zine, Sales Caffeine, is a sales wakeup call delivered every Tuesday morning to more than 130,000 subscribers, free of charge. Sales Caffeine allows him to communicate valuable sales information, strategies, and answers to sales professionals on a timely basis.
Gitomer is also responsible for the world's first customized online sales assessment, renamed a "successment," which not only judges your selling skill level in 12 critical areas of sales knowledge, but gives you a diagnostic report that includes 50 mini sales lessons. This amazing sales tool will rate your sales abilities and explain your customized opportunities for sales knowledge growth. This program is aptly named KnowSuccess because you can't know success until you know yourself.
In 1997, Gitomer was awarded the designation of Certified Speaking Professional (CSP) by the National Speakers Association. The CSP award has been given less than 500 times in the past twenty-five years and is the association's highest earned award.
Whether you are a huge corporation or a small startup, Gitomer will invigorate your sales efforts and revitalize your company through personalized seminars.
Click Here to register and get pricing on booking Jeffrey Gitomer for your next event!
Reviews
---
October 2011, San Diego

"Wow" is Jeffrey's value message and it never goes out of style. He speaks from his heart with a passion for teachable salesmen. If you're willing to learn he fills your bucket. He makes walks to room connecting with everyone and deliberately makes I contact with many. Uses humor to deliver the "punch" without bruising the ego.

John Prusa
Lost count how many times

You can implement his ideas before you leave his presentation! He only talks about those things he believes and knows it works! A true giver of perceived value!

Viditude
Many times

Jeffrey is frank and to the point. I have followed, read, and used his material for many years. It works, if you work it!

Dave Ferguson
June 2011 in San Jose

He is straightforward, completely honest and blunt to the point of rudeness. If you can't understand what Jeffrey's saying, you simply aren't listening. His style is relaxed, yet meticulously planned and executed. They don't come any better.

Hank Trisler
NSA convention (several times)

Jeffrey is a great example to follow for any professional speakers. He is such an inspiration. He is a master at talking ACTION. His books are awesome and he has great content in all his presentations. His style is very funny and always direct to the point. I highly recommend Jeffrey's work for anyone who want to improve their sales and the quality of their life.

Patrick Leroux, CSP

· ResultAction inc.
On DVD - from the Late Great Jim Rohn. Weekend Seminar

Fresh, thought provoking and a real kick in the ass I needed. Having never seen him in person he is on my 'must take this guy to lunch' list. I have since bought many of his books starting with the Sales Bible, Customer Satisfaction is Worthless..., Little Red Book & Black Book Oh and Thinkertoys (Not a Jeffrey Book) by Jeffreys recommendation on creative thinking. I'm now reading Social Boom. Also I'm an Ace of Sales Member (Just getting started)and took part in Jffreys most recent Webinar on Social Networking - Paid my $20 (money well spent!) and I'm booked into September. Not forgetting e-zine and sales rants. Please pass this onto Jeffrey so that when I ask him to have lunch with me he will agree :-) I love the fact Jeffrey always takes time to anser direct messages.

Paul Howes
April 2010, Grand Rapids, MI

Jeffrey brought his trademark enthusiasm and ability to prod to out of your routine. I purchased his book,Little Gold Book of Yes! Attitude and a copy of Earl Nightengale's CD, The Strangest Secret. Everyday the past year I have been reading the book and for a year I listened to Earl. A great gift to myself and to the people in my life.
One last great story. True to Jim Rohn, the next person you meet might be a friend for life, I met my finance at Jeffrey's seminar. We had never met before, but it must have been the energy in Jeffrey's presentation that got us started together.
I enjoyed the talk because I meet the love of my life at Jeffrey's seminar!

Doug Haverkamp
Pittsburgh, PA in 2003 and Cleveland, OH in 2010

I truly enjoy how real and down to earth Jeffrey is. He has made me more creative in my approach to selling as well as managing my current sales team. Jeffrey doesn't rest on his laurels either and he continues to develop current up-to-date ways to educate, motivate and coach. Look at how he is using Social Media to elevate your sales and marketing skills. Highly recommend Jeffrey to see in person, read his books and of course subscribe to his weekly Sales Caffeine.

Kevin Warrene
Orlando, 2008

You would be an absolute FOOL to question whether or not hearing Jeffrey speak is worth your precious time or money! Although I'm in sales, I've never had any formal sales training and I often cringe at the thought of it. Listening to Jeffrey speak, reading his books and implementing his methods, have truly been the greatest factor in my success so far......that, hard work and no excuses. I still have a long way to go, but will continue on with the limitless knowledge that I have gained through his work. Looking toward to hearing him speak this year in Tampa!

Melissa Dermosheghian
Smithtown Sheraton Hotel 2009 and Hunter College, NYC 2010

I will attest to being a Jeffrey Gitomer "Groupie"! I have almost every book, dvd, cd and even trash can of his! Listening to Jeffrey and more importantly being in his live audience is like an infusion of creativity, spirit, enthusiasm and simply great business wisdom...which we could all use again and again. I am sure when he comes back to my local region. I will be there once again. I always check his locations and urge everyone I know to get to his presentations. Go Jeffrey!!!!!

Joani Madarash
Mariott Hotel, Haupauggue, NY 2009

After having read a few books and watched some videos, I could not wait to see Jeffrey in person. He did not disappoint. Jeffrey is engaging, entertaining, and has a keen understanding of what makes people think. Unlike other speakers who stand behind a lectern and lecture, Jeffrey talks to his audience while moving around the room. His expressions and body language create a virtuoso performance unlike any other sales trainer I have experienced.

Marc Zazeela
October 2008, Orlando Florida Airport Hyatt

Jeffrey not only has a way of presenting valuable information, but he does so in a manner that is as enjoyable as watching a Major Motion picture. Simply put- he has honed his message and presentation to the point of you always want more, not matter what he is speaking about.

Rick Brewer
Audio book, in my car

Jeffrey Gitomer changes lives, it's that simple. I read one of his books and then bought the next on CD (Little Red Book) to keep me company on drives between stores as a Product Rep. If you want books on things that "might" work, there are shelves full of them. If you are looking for things that not only have worked but will continue to, look for books by this man. Not sure if hearing his CD's counts as hearing him "speak" but the message is clear... crystal clear. Books by Gitomer and a handful of other authors are on my "Do Not Loan" shelf because if I didn't get them back I would have to buy them twice. They're that good.

Tk Kinney
May 19 -20, 2011 St.Louis, MO

Jeffrey is an engaging, honest, straight shooter who delivers the kick in the pants that you will need to get recharged and motivated to SELL!

Jennifer O'Connor
April 8, 2011 San Jose, CA

I LOVED your talk because you're real! You don't pull any punches you tell us like it is, whether we like it or not. I learned so much about Social Media and how to utilize it with my business as an Independent Fashion Consultant representing a company that will not allow me to use their logo or their name in any of my online programs. I thought I wouldn't be able to become an online presence. You showed me how and I'm growing like crazy! Thank you!!

Colleen Berumen
Milwaukee - '08, Minneapolis - Nov. '10

Jeffrey is a no-nonsense type of guy where all of his information is common-sense, black and white. Attending one of his live performances IS NOT a pep rally or "stroke your ego" event.

He is authentic, truthful, and made me realize our success, skills, and how we serve our clients is all up to us, every day 24-7, 365.

In a nutshell, be that trusted advisor that knocks there socks off no matter the situation with ENDLESS VALUE CONTRIBUTIONS!!!!

Jeffrey is the only published author that I follow religiously cause he is real, genuine & tells it like it is. He ingrained how I provide VALUE to everybody I encounter, sparked my creativity & generated how I live my life daily - "kick your own ass" philosophy!

Brian Kelm
April 29, 2011 in Frisco, TX

This was by far the best sales seminar I have ever attended. You made me evaluate my sales strategy, and I am ecstatic to implement what I learned. I've already signed up on www.aceofsales.com! Thank you so much for all the valuable information!!

Breiane Cage

· CI Web Group
Cleveland, Ohio 2010

I enjoy you because you are a risk taker. You risk being real with your audience. You were prepared. It seemed you knew more about Cleveland than we did. You stumped us with sports trivia specific to Cleveland.
I walked away that day with so much to do to improve my company. I am still implementing it. The result my first quarter sales were up 61% over the previous year. And I was up over the previous year!Our business is exploding in an industry that has been hit hard with the "economy"
You took the time to answer my qusetions personally. It was by far the two best seminars I've ever attended. I've been to a lot of seminars. I've seen them all Tracy, Zigler, and Hompkins to name a few. There is no comparison You Rock! I don't care about correct grammar either!

Thanks,
Pete Primeau

Peter Primeau

· Primeau Furniture Sales
Long Island 2009

I remember the day because everything was "red" and exciting. I sat right in the middle and I was so impressed by Jeffrey's down to earth attitude. This attitude greatly translates in his writing and that is why I love reading his books. I often just crack up at what he says sometimes! Jeffrey breaks everything down so it is easy to understand and just "get". I also like when Jeffrey says that successful people WORK REALLY HARD - because anyone who says that you can get something for nothing doesn't know what they are talking about. I also was the winner of Jeffrey's signed Sales Bible - so that made the day extra special. Thanks Jeffrey and sorry for posting on your wall today - i just got really excited for making my first fan page and wasn't sure if i was breaking any rules! I am new to internet marketing and might not know all the etiquette yet!

Deborah Drum

Deborah Drum
April 8 & 9, 2010 at Pinnacle Center in Hudsonville, Michigan

It was the beginning of a revolutionary change in my selling style. You spoke on the Yes! Attitude book....which is where I began to understand the impact of attitude in sales & adding value to others first. In the past year, I have increased my sales numbers, and am currently in the #1 or #2 spot every month at my job. I loved the points you made about being a person of value, and enthusiasm. Through your talk I realized that success is more about relationships & helping others.....the money is just a bonus! A BIG bonus!

Debra Carpenter

· Lanser Broadcasting
So far I have only heard your audio and your webinars but I will see you on Friday in Frisco, TX, and I cannot wait!

I enjoy you because you shoot from the hip. It's not a bunch of hype. Sometimes you step on my toes (so to speak). I have read about 6 of your 10 books and nothing conflicts. You don't say in one book you recommend cold calling and then not to in the next. You are straight forward, consistent and motivational.

Barbara Hixson
Charlotte NC

Its always great to be around someone who gives it to you straight up. It might offend some, but the message Jeffrey gives is REAL LIFE! If you haven't seen Jeffrey live, GO see him ASAP!!!

Ward Norris
January 2010 Nashville ,TN,Allied Building Managers Conference

I am going to try very hard to put into words why I enjoyed Mr Gitomers talk.The words that instantly come to mind are Energizing,Inspirational,Motivational etc. But to break it down into "laymens" terms it is that both Mr Gitomer and Allied bldg gave me back a gift that day that I lost a long,long time ago and that is the ability to get up in the morning and look forward to coming to work!!!! If I could implore on all of you this simple message trust me it can save you in both your professional and personal life!!!! He is a genius thats a given but when you do your part and really really listen you get back a whole lot!!!!!
Thank you Mr Gitomer I will never ever forget the experience!!!!

philip

· Allied bldg products
Murfreesboro, TN

The most enjoyable part of attending your seminar is the personal one on one atmosphere that you create. With a room full of people I felt like you were talking directly to me. Your insight and experience on so many levels excited me to go out an sell in the hallway of the hotel! I read your books as soon as the new one becomes available and listen to your CD's in the truck on the way to make a call.

Tommy Goodrum
May 2009 Denver, CO

The first time I heard Jeffrey Gitomer was almost two years ago; it had a tremendous impact on me, I still refer to my notes from that event with frequency. One of my most valuable takeaways from that event was learning about making a message transferable. Often when you read reviews of Jeffrey's speaking or writing you'll hear about his great insights, passion for life and sales, straight forward approach or humor, and rightfully so. Where his real power lays is in the transferability of his message which I have experienced this on a personal level: I get it, I believe it will work and I am willing to try it. I have benefited greatly from the speaking and writing of Mr. Gitomer and am grateful he continues to share.

Will Nelson
If I am not wrong it was in 2007 at Microsoft MGX Orlando

Enthusiastic message with great insight on how to improve sales skills. At that time you delivered to Microsoft employees your little green book which was the first book that I read and due to it's quality I have read all your books that you wrote since that date. I always try to apply what I learn from your books!!!

Jesus Cardozo
Youtube

The sales techniques you talk about are not commonly used and they are very effective as I have used them and continue to use them every day

Roshan
In 2004 in Denver, Colorado

Here is my Gitomer story. Several years ago a friend and I went to see Jeffrey at a hotel in Denver. We arrived early and went looking for some coffee. Jeffrey pulled up in a cab and he greeted us with a smile and a hello. We told him we were here to listen to him speak, but first we needed some coffee. He invited us back to the room where his presentation would be held and said coffee would be on its way.

Jeffrey introduced us to some of his staff as they were setting up their bookstore. Coffee arrived. We staked out our seats in the first row and that's when we were asked by Jeffrey's staff if we would mind checking in folks when they arrived. We agreed and were handed a list. (Reminds me of, Message to Garcia) Pretending like we knew what we were doing, we greeted everyone, asked their name, checked them off the list and invited them inside.

The program was about to begin and the Gitomer staff said we should come in, however before we could sit down, they invited us over to the bookstore table and said we could take what we wanted. Books, CD's various Gitomer stuff. We said no, we were happy to do it and just get to see Jeffrey from the front row. They insisted and after some prompting, I choose a book and a Gitomer Coin with the likeness of Jeffrey with the saying, "In Sales We Trust." My friend choose a CD on Sales. "Guys, please take something else, Jeffrey appreciates what you did and wants you to have some more for your time." Like kids in a candy store we each took another book and said thanks. To this day I carry that coin in my bag to all my sales calls. Jeffrey signed our books and thanked us for being his customer.

I have since seen Jeffrey several more times live. He is authentic, challenging, honest, humorous, truthful, and sincere. Most of all he makes you think and act. I have all of his books and use them as resources constantly. I always take away a nugget or two I can put into practice immediately. Because of Jeffrey, I have a personal web site, twitter, facebook, blog, youtube channel and will one day leave a legacy of ideas behind. The only thing bad I can say about Jeffrey is he is a Phillies fan. Thanks Jeffrey for keeping me on track and helping with my success.


Bradley Craig Beck

· Design Master color tool, inc.
2007 - Vancouver, BC

Without question the most dynamic speaker I have ever heard. Caught my attention from the introduction(You played a Killers song), and never lost it. I have since read almost every book you have written. I can only hope NAHAD hires you for the 2012 convention in Las Vegas.

Raymond Sexauer

· Unaflex, LLC
On your youtube channel

You have a unique mixture of being down-to-earth and enthusiastic and with hands-on experience. What I love about you talking is that you do not sell tricks but teach ways of which one and one's costumer benefit.

Tobias Clemens Häcker

· Euro-Com International B.V.
Speech Topics
---
Customer Satisfaction is Worthless: Customer Loyalty is Priceless
Get notified of new talks and events.
Follow