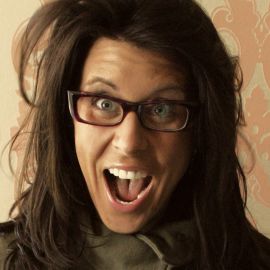 Jeniffer shares a room in Nashville, TN with a dramatically overweight Lop rabbit named Key Lime Pie. Though now fully committed to her speaking ministry, her past is jam-packed with weird and wonderful adventures.
She has traveled all over the world for various reasons, whether it was studying medicine in Ethiopia, climbing the mountains of San Jose in Costa Rica, biking across Italy or selling vacuums to penguins on the glaciers of Antarctica. She's worn many hats, having dissected everything from cow's eyes and sharks in the name of science, to jumping out of a plane, served as a youth pastor, participated in the world's largest leapfrog game (making it into the Guiness Book!), line-danced her way through two country music videos, acted onstage and on-screen, waitressed, pole-vaulted, worked as a jeweler, toured as tour chaplain with Stacie Orrico, and was part of the startup staff for Michael W. Smith's Rocketown (the disenfranchised youth ministry).
Jen proudly speaks about choosing to remain a virgin and the blessings of remaining pure. Lifestyle evangelism is not only her most passionate speaking topic, but also her manner of living. It is a topic that encompasses everything the body of Christ desires to impart to young people today---to live in such a way that those around you will be eternally impacted for the kingdom of God.
She has no tattoos, but she does have a B.A. from Taylor University--a degree in Premedical Biology with a minor in Theater Performance Arts--she's always enjoyed a wide variety of life experiences. Its through these experiences that she is able to connect with and relate to today's youth and bring to them a passion and desire to live life to the fullest as a beloved child of God.
Click Here to register and get pricing on booking Jeniffer Dake for your next event!
Videos
---
Reviews
---
From 2006-Present, Camps all around the US

Jeniffer Dake is a one of a kind woman who knows how to speak into the lives of teenagers. She knows what difficulties they face on a day to day basis and is such a great role model for anyone to look up to. Not only have I heard her speak, but she has also greatly impacted my life from 7th grade until now, a sophomore in college. Her ability to encourage others towards faith in Christ is one of her strongest gifts. The Lord has definitely blessed her with a compassionate heart and the boldness to speak about the love of Christ to everyone she encounters.

Carra Linde
various, from 2006 to present

I've had the privilege of not only getting to watch Jeniffer's ministry at work, but getting to receive that ministry in my personal life through the time that she invested in me. Her mentoring heart, especially to teen and young adult girls, has been such an inspiration and changed so many lives. I can so clearly see how much she loves and cares for those girls regardless of who they are or how well she knows them. Her stance for purity and pursuit of the Lord has and will continue to impact various people through her speaking, her relationships with others, and her lifestyle.

Autumn Crew
Summer camp, and several teen retreats

Jeniffer is aware of the tough issues facing teens today. She address these issues with compassion and with the truth of God's word. I love hearing her speak about living in Christ because it's about a relationship with Jesus and how He continues to teach and grow her. She is real about her own struggles and victories and by sharing both she is approachable to teens of all different ages and to adults. Jeniffer is not afraid to speak truth but she is excellent at speaking it so the listener can hear. She expresses fun stories of her life that demonstrate her relationship with Christ. I have seen audiences smile, laugh, cry, rejoice, and sit to eat with her after she speaks. Her words bring encouragement, inspiration and acceptance and from this place the Holy Spirit is allowed to work on the hearts of those listening.

Cindy Dunn
Camp no Boys allowed for Fellowship Bible Church

She is authentic!! Down to earth!! And not embarresed to speak the hard truth!!
I love her fun style, she truly has a way with girls!! Those that she has mentored will say as college students, "when I go out on a date I hear Jeniffer's voice in my head" I think that is great, because her voice are just words repeating those of Christ..she is pointing them to the truth!!

Sandra Ney
Fellowship Bible Church, Brentwood TN. 2008.

As a young woman living in secular world and striving to stay pure, hearing Jeniffer speak was a God send. To see a woman on stage who wasn't social awkward or weird, but instead lively and beautiful speak of how she was saving herself for marriage was astounding. She genuinely practices what she preaches by showing that waiting for true love really is all it's cracked up to be. Jeniffer is amazingly sweet and kind and I would recommend her over and over again!!

Bethany Weil
FBC Augusta Youth Camp

Jeniffer adds such joy to her talks. She has an instant rapport with kids and grabs their attention from the first sentence out of her mouth. Jeniffer really relates to teenagers well. She has spoken at two of our youth camps and I thoroughly enjoyed watching her interact with our youth. By the end of the week, there was not one teenager that she had not spent time with! I would HIGHLY recommend her to anyone!!!

Jan Gary
Speech Topics
---
Eternal Perspective...
"So much of life is in the here and now. What's this mean to me in this moment? What would make me happy now? Why am I important? We rarely think of next year, let alone eternity, but what if a generation of students had an eternal perspective, a perspective that caused them to focus on each of their actions with the weigh of eternity resting on the choices they make. I believe a generation with an eternal perspective could change the world!"
Identity in Christ...
"I think the struggle of knowing who you are is on-going, because we change so much as we grow and learn more about the world around us and the one who made it. However, this struggle is never more pronounced then in the teen years. For this reason knowing the promises of Christ is of vital importance. I believe that teens and young adults who have an understanding of their identity as God defines it are better equipped to make life choices that will set them up for success and protect them from the traps of Satan.
After the honeymoon. . . a conference for young marrieds
The honeymoon is over and, life begins to be ordinary. It is in this ordinary that many young married couples begin to wonder, is this all there is? For girls especially, marriage is dreamed of for most of their lives, and when they are the first of their peer group to get married there remains a pressure to have a fairytale everyday. Yet when the dinner party ends and these young women are left with a sink full of dishes, doubt and struggle begins to set in and their husbands remain confused to why the emotional roller coaster has begun. In this conference I have the opportunity to speak biblical truths to these young marrieds about how to make the ordinary parts of marriage extraordinary, how to find the fairytale in the midst of the dirty dishes and how to serve one another in the mundane.
Is it worth the wait. . . single forever!
As someone who was single through her 20s and not married until 34, I have a heart for this demographic. "So why aren't you married?" was the question that haunted me. So many of my friends were moving on with careers and relationships and i felt as though my life was on pause. When was my life going to move forward? When was it my turn? Then one day i woke and realized it was my turn, my turn to live the adventure of being single and in my 20s.Now as a wife and a mother i am so grateful for those years as a single girl who had so much freedom and opportunity for ministry, and how that prepared me for the next part of my life. This is the perspective i wish to give singles in the Church.
Links
---
Get notified of new talks and events.
Follow
Related Speakers View all
---
Angie Smith

Christian Blog Writter

Ann Voskamp

New York Times best-selling author

Kylie Bisutti

A Motivational Speaker to Teens, Adults, and Fellow ...

Susie Larson

Engaging You in A Strong and Active Walk of Faith

Christine Caine

Inspirational Christian Speaker

Chase Callahan

Born and raised in Greenville, SC, Chase Callahan is...

Ed Young Jr.

Founder and Senior Pastor of Fellowship Church, Form...

Dave Stone

Senior Pastor of Southeast Christian Church

Dennis Rainey

President, CEO and Co-Founder of Family Life

Bob Coy
William Sheals

Senior Pastor of Hopewell Missionary Baptist

Natasha David-Walker

"the modernized, but spiritualized response for this...

Carlos PenaVega

Actor and Musician; Known for Nickelodeon's Boy Band...

Alexa PenaVega

Actress and Singer, Best Known for "Spy Kids"; Danci...

James Michael McAdoo

Power Forward for the Golden State Warriors

Mel Gibson

Award winner, director and producer

Martha Williamson

Martha Williamson is a 20-year veteran of the entert...

Denzel Washington

Award Winning Actor and Filmmaker

Martin Sheen

Award-Winning Actor Known for "The West Wing" & "Gra...

Tyler Perry

Director, Playwright, Screenwriter, Producer Actor, ...
More like Jeniffer