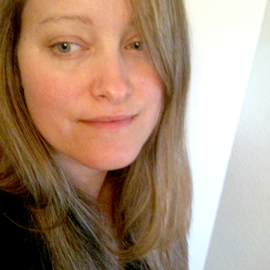 Jenna Stahl
Co-Founder & Creative Director, Shop Hers
Jenna Stahl brings many key ingredients to Shop-Hers' endeavors. She is responsible for both the visual design and the user experience at Shop-Hers.com. Jenna has a solid knowledge of graphic/digital design, excellent team and project management skills and a wealth of web-based retail shopping expertise, which all contribute to the tremendous success of Shop-Hers. She has worked with a broad range of clients (such as SeaMobile, Sony, Coca Cola, Johnson & Johnson, Intel and the U.S. Department of Justice, just to name a few), but is most passionate about her work in the fashion/beauty industries (having worked with the likes of Nordstrom, Max Factor, Cover Girl and Clarisonic). In fact, Jenna was instrumental in the early days of Norstrom.com. In her 5½ years with the company, she and her team designed and maintained a top-ranking e-commerce site that consistently exceeded the division's business goals, and positioned Nordstrom as a major player in online retail.
Click Here to register and get pricing on booking Jenna Stahl for your next event!
Get notified of new talks and events.
Follow
Related Speakers View all
---
Reed Shaffner

Co-Founder & Co-CEO, Workpop

John Ball

Founder & Managing Director, Steamboat Ventures

Sean Brecker

CEO, Headspace

Sam Teller

Managing Director & Co-Founder, Launchpad LA

Jamie Kantrowitz

Mentor, Launchpad LA

Steve Pomerantz

Co-Founder, Tuition.io

Brendon Mcqueen

Co-Founder & CEO, Tuition.io

Arun Mehra

Co-CEO, Talenthouse

Amos Pizzey

Co-Founder & Co-CEO, Talenthouse

Roman Scharf

Chairman & Co-CEO, Talenthouse

Kunal Anand

Co-Founder & CTO, Prevoty

Julien Bellanger

Co-Founder & CEO, Prevoty

David Asarnow

Principal, Craton Equity Partners

Matt Sandler

Co-Founder & CEO, Chromatik

Zach Frechette

Co-Founder & CEO, Quarterly

David Norris

Founder & CEO, MD Insider

Paul Bricault

Founder & MD, Amplify.LA

Michael Todd

Co-Founder & CTO, Victorious

Mike Townsend

Co-Founder, HomeHero

Kyle Hill

Co-Founder, HomeHero
More like Jenna