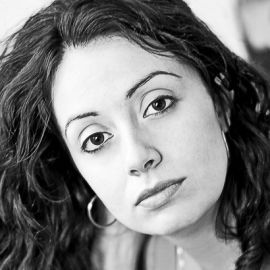 Jennine Capó Crucet Assistant Professor, MFA University of Minnesota (2006) specializes in fiction and non-fiction. Her first book, How to Leave Hialeah, was selected by Curtis Sittenfeld for the Iowa Short Fiction Award; she is the first Latina to win this prize in its forty-year history. The book also received the John Gardner Book Prize and the Devil's Kitchen Reading Award in Prose and was a finalist for the Chicano/Latino Literary Award; it went on to be named a best book of the year by the Miami Herald, the New Times, and the Latinidad List. The collection's title story won a PEN/O. Henry Prize and appears in the O. Henry Prize Anthology (2011, Vintage/Anchor Books). Her work has appeared in the Virginia Quarterly Review, Ploughshares, Epoch, The Southern Review, Crazyhorse, Gulf Coast, and other magazines. Crucet served as the fiction editor for the most recent edition of the PEN Center USA's Handbook for Writers, which is used in their Emerging Voices and Writers in the Schools programs. A former sketch comedienne and scriptwriter for NPR's The Writer's Almanac, Crucet has also worked in the non-profit sector as an advisor to first-generation college students from low-income families living in the South Central Los Angeles area. She is currently working on a novel set in her native Miami and based on the story published in the PEN/O. Henry anthology.
Click Here to register and get pricing on booking Jennine Capó Crucet for your next event!
Videos
---
Reviews
---
Campus Reading Celebration

The stars don't indicate my experience, which is that everyone I dealt with was smart, efficient, and knowledgeable. In my negotiations, however, and I believe that was with Haley, I felt a touch of extortion. Once we were locked into our speaker, she pushed for extras: ground transportation, though that wasn't in our contract, and two nights at the hotel, although from the start we said we only covered one. She said she'd get back to me to see what Jennine said, and then checked back to see if the new flight schedule was OK: Jennine's flight schedule showed she would now fly in the morning of our long event day/evening, which was untenable for us, far too risky if the planes were late. So I told her that and said I'd try to scrape up the money, which I did, at which point she told me we'd now have to pay for changing back to the original plane flights. To be fair, when I protested that I hadn't accepted the idea of a one night stay and therefore didn't agree to changing the flights, we had no obligation to pay, she dropped the issue. But it didn't build client confidence. JKPeters

Joan Peters

· California State University Channel Islands
Links
---
Get notified of new talks and events.
Follow