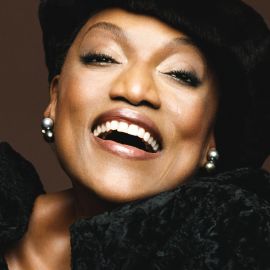 Jessye Norman
Grammy Award-Winning Contemporary Opera Singer & Successful Performer of Classical Music
In the 1980s, Jessye Norman's roles in "Aïda" and "Les Troyen" made her one of the most popular and highest paid soprano opera singers worldwide. Born on September 15, 1945, in Augusta, Georgia, Norman debuted as an opera singer in Tannhaeuser. Her performance resulted in numerous job offers. She went on to tour through the 1970s. In 1990, Javier Perez de Cuellar named her honorary ambassador to the United Nations.
One of the most celebrated artists of our century, she is also among the most distinguished in a long line of American sopranos who refused to believe in limits, a shining member of an artistic pantheon that has included Rosa Ponselle, Maria Callas, Leontyne Price and now this daughter of Augusta, Georgia. "Pigeonholing," said Norman, "is only interesting to pigeons." Norman's dreams are limitless, and she has turned many of them into realities in a dazzling career that has been one of the most satisfying musical spectacles of our time. She has been equally at home in American spirituals, French chansons or German Lieder.
Norman currently has a book out, "Stand Up Straight and Sing".
Videos
---
Books
---
Related Speakers View all
---
Saroo Brierley

Indian-Born Australian Businessman and Author Who Fo...

Kim Stolz

Model, TV Personality & Financial Executive; Former ...

Joanna Rakoff

Author of the Novel "A Fortunate Age" and the Memoir...

Courtney Robertson

Controversial Former Contestant on "The Bachelor" & ...

Ben Watt

Musician, Songwriter & Author; "Patient: The True St...

Rita Zoey Chin

Author of her Memoir "Let the Tornado Come"

Bob Backlund

Author & Former Two-Time World Wrestling Federation ...

Michelle Collins

British Actress and Singer Who has Starred in "EastE...

Barbara Hendricks

African-American Operatic Soprano and Concert Singer

Lori Duron

Author of "Raising My Rainbow," Devoted LGBTQ Advocate

Ian Buruma

Dutch Professor of Democracy, Human Rights, and Jour...

William Poundstone

Author of "Rock Breaks Scissors: A Practical Guide t...

Frances Corner

Head of London College of Fashion & Author of "Why F...

Judy Apps

Professional Voice Coach, Neuro-Linguistic Programmi...

Guy Fraser-Sampson

Finance and Investment Expert; Author of "The Pillar...

Alan Williams

Business Coach Who Created the 31 Practices Concept ...

Alison Whybrow

Coach and Business Psychologist

Sonia Faleiro

Award-Winning Writer Known for "Beautiful Things: In...

Tishani Doshi

Indian Poet, Journalist, and Dancer

Kiran Desai

Indian Author and Novelist Know for "Inheritance Loss"
More like Jessye