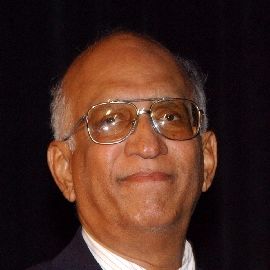 Founder (formerly President & CEO) of Action Instruments. Technology Futurist, Angel Investor, Speaker, Writer, Industrial Automation Commentator, Analyst & Consultant.
Jim Pinto was named California Small Business Person of the Year for the State of California. He has been featured in many books and national journals: INC - A Call to Action; INDUSTRY WEEK - A Manager for All Seasons; ESQUIRE - Re-defining the Role of the Employee. He is featured prominently in Joel Kotkin's California Inc. and is mentioned in Naisbitt's Re-inventing the Corporation as a pioneer in participative management.
Jim has travelled widely throughout the world, and has significant experience in the comparative study of American, European and Japanese Business cultures. He serves as an international consultant in strategic business planning, marketing, sales channel development, technology planning and acquisition strategy. He is a Member of the Association of Professional Futurists and the World Future Society.
Jim currently resides in San Diego, California. He is a popular speaker on technology futures, technology investments. He writes for several webzines, journals and magazines), and publishes a popular eNewsletter (10,000+ subscribers).
Links
---
Related Speakers View all
---
Candace Reese

The CEO Pundit: Empowerment Speaker, Inspirational C...

Adora Svitak

Writer, Speaker, Education Advocate, and Child Prodigy

Elijah Ezendu

Award-Winning Business Expert & Software Architect +...

Tim Rooney

Today, PeopleMation is living out his dream to "Help...

Mike Wittenstein

Customer Experience and Service Design Expert

Tony Dovale -The Winning Mindset Guy

Develop Xponential Mindsets, Hi-Performance Teamwork...

Roger Harrop

The CEO Expert, ex CEO of Forbes quoted top co., SMO...

Michel Neray

Principal, The Essential Message: Learn To Different...

Michelle Courtney Berry

Breakthrough Expert, Founder and CEO of LifeFlowPlan...

Rob Salisbury

Rob has been engaged over 1630 times as a speaker, c...

Daniel James Scott

Daniel James Scott is a noted entrepreneurship exper...

Jay Handler

Speaker, Radio Host & Author of "The 8 M's of Market...

Nicholas de Wolff

Startup Advisor, Executive Leader, Business Strategy...

Marty Stratton

Entrepreneur Spirited Speaker; Driven for Your Success!

Kristen Hagopian

Personal Finance Author, Popular Columnist, Consumer...

Barbara Rozgonyi

Elevating Events with Creativity and Innovation via ...

Troy Hazard

Troy Hazard is the recent Global President of the el...

David Nour

Social Networking Strategist

Tim Seitz

The World's Happiest Hypnotist

Grant D. Fairley

Keynote Speaker, Group Facilitator, Seminar & Worksh...
More like Jim