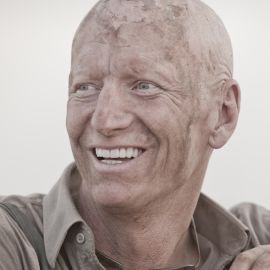 Jimmy Nelson
Author and Photographer
Jimmy Nelson (UK, 1967) started working as a photographer in 1987. Having spent 10 years at a Jesuit boarding school in the North of England, he set off on his own to traverse the length of Tibet on foot (1985). The journey lasted a year and upon his return his unique visual diary, featuring revealing images of a previously inaccessible Tibet, was published to wide international acclaim.
Soon after (1987) he was commissioned to cover a variety of culturally newsworthy themes for many of the world leading publications ranging from the Russian involvement in Afghanistan and the ongoing strife between India and Pakistan in Kashmir to the beginning of the war in former Yugoslavia.
In early 1994 he and his Dutch wife Ashkaine Hora Adema produced "Literary Portraits of China". A coffee table book about all indigenous cultures in China and their translated literature. The book was the result of a forty month project that took them to all the hidden corners of the newly opening People's Republic. Upon its completion the images were exhibited in the People's Palace on Tiananmen Square, Beijing, and then followed by a successful worldwide tour.
From 1997 onwards, Jimmy successfully undertook commercial advertising assignments for many of the world's leading brands. At the same time he started accumulating images of remote and unique cultures photographed with a traditional 50-year-old plate camera and awards followed.
In 2010 he began his journey to create the iconic artistic document that became "Before They pass Away". After visiting 35 chosen Indigenous communities, part 1 was published to International acclaim at the beginning of 2014 and received many awards.
Today Jimmy is still traveling and photographing to produce part 2 of the project. His communication and his passion are found on a far wider platform. He is exhibiting at International Museums, shows his work at the world's leading Photographic Art galleries, speaking at international conferences and launched the Jimmy Nelson Foundation in October 2016.
Videos
---
Books
---
Related Speakers View all
---
Sally Mann

Renowned American Photographer

Stanley Nelson Jr.

Emmy Award Winning Filmmaker, Freedom Summer

Steve McCurry

Renowned for his Evocative and Moving Photographs of...

Carol Beckwith and Angela Fisher

Thirty years of work on the African continent have c...

Marcus Bleasdale

Photographer National Geographic

Robin Hammond

Documentary Photographer& Human Rights Activist

Joseph Altuzarra

Fashion Designer and Founder, Altuzarra

Eddie Huang

Writer, Chef, Entrepreneur and TV Personality

Stephen Wilkes

Fine Artist, Commercial Photographer, Creator of Day...

Abby Kraftowitz

Freelance Photographer

Mike Fleisch

Managing Partner, DPICT

Frédéric Brenner

Artist, This Place

Etgar Keret

Best-Selling Israeli Writer Award-winning Filmmaker

Boniface Mwangi

Award-Winning Kenyan Photographer

Henry Diltz

Rock and Roll Photographer

Chase Jarvis

Award-Winning Photographer & Director; Fine Artist; ...

Platon

World-Renowned, Award-Winning Photographer and Found...

Aris Venetikidis

Aris Venetikidis is a graphic designer with a passio...

Amanda Lindhout

Founder and Executive Director, The Global Enrichmen...

Travis Keller

Travis Keller is an American music journalist, photo...
More like Jimmy