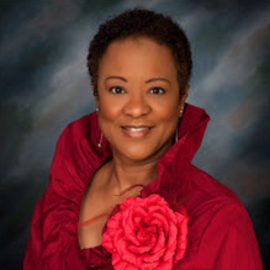 Dr. Joel Martin will inspire and educate your audience. An award winning creative director, she was one of Americas first women to own and operate a full-service advertising agency. She is an entrepreneur who understands firsthand what it takes to create a major brand, be resourceful, inspire a work force, and overcome challenges.
Today she is President of Triad West Inc. specializing in diversity, leadership, and breakthrough performance. A master trainer and training designer, she is also producer of Positively Powerful Transformational Events. She wrote the book on How To Be A Positively Powerful Person! and Get Your The Brand Awareness (MBA) The Positively Powerful Way!
Dr. Joel Martin has delivered customized keynotes before Accenture, Henkel North America, American Contract Compliance Association, Ohio Governors Office, eWomen International Conference, Grand Canyon Minority Supplier Development Council, NAWBO, the PowerNetworking Conference, Ohio State University and others. Dr. Martin is a breast cancer survivor and speaks about this as a womens health advocate.
Want to unite and educate your global teams? Dr. Joel Martin is considered a genuine genius in her approach to personal transformation. She has spoken before and/or trained people of all ages from high school students to executives and senior citizens; before corporations, churches, universities, and small businesses; across the U.S. and internationally. With her, lives are quickly changed for the better. Customer service and performance improves. Conflicts are reduced. You will get where you want to be faster.
Want a professional who gets to the heart of what matters? Dr. Joel Martin has a proven ability to connect with people and deliver beyond expectations. For this reason, she is a sought-after facilitator of business events, corporate panels, retreats, and workshops. She received phenomenal feedback for her interviews of Lee Daniels, Bill Duke, Reggie Hudlin, Lynn Whitfield and others. Rich stories of success.
Dr. Joel Martin was born in New York City and grew up in Toledo, Ohio. Raised by her mother, a hard working spiritual woman, she learned about integrity, hard work, joy, the love of people, and service to others. Her recognition includes the Today Show, the NY Times, Essence, Black Enterprise, and Fortune; NAMD Entrepreneur of the Year, and Ohio State University Distinguished Alumni. She is a Scottsdale Human Relations Commissioner; PowerNetworking Conference Director of Education; ABHOW Corporate Board Member; and Wharton Business School Fellow. She has earned a PhD in Communications and Masters of Psychology.
Click Here to register and get pricing on booking Joel P. Martin for your next event!
Videos
---
Reviews
---
The Women's Summit In Baltimore Marilyn March 19,20th 2010

She had a commanding a impacting presence there was no doubt that who were experiencing the results of being in the presence of one whom had prepared themselves to be able to affect for good those whom she had the priviledge of coaching rather a large or small audience ,small as in one on one audience . The evidence .....more than 2 1/2 years later I 'am seeking her out to re-create the transferring of her energy to get in touch with my own. WOW !!!

Saundra Richardson
June 16 and 17 ABHOW Administrative Council

Dr. Martin's presentation on how to be an effective public speaker drew raves from all our participants. The 2 day workshop was put together very well and professionally presented. The content included a mix of practical tips and pointers combined with much participant interaction. The workshop went a long way toward achieving its goal of not only improving the public speaking skills of the participants but also enhancing everyone's self-confidence. Dr. Martin is a consumate professional and this was reflected in the over-all quality of her presentation.

Ancel Romero
The 4th Annual Positively Powerful Women Awards & The Business On Board Program

Dr. Martin is an inspiration and a treat to hear her speak. She exudes grace, confidence and serves as a role model for women around the globe. I heard her speak on April 27th, 2011 at the Business on Board program (sponsored by the Phoenix Arts & Business Council) on the importance of diversity within non-profit Boards. Her topic was well thought out and her delivery is engaging. Her audience connected with her message and there was lively discussion that took place.

The next time I had the pleasure of hearing her speak was on May 20th, 2011 at The Positively Powerful Women Awards. Dr. Martin has a presence about her that makes people sit up in their chairs and listen to every word!

Kristi Lee
Get notified of new talks and events.
Follow
Related Speakers View all
---
Dr. Lisa Van Allen

The Biz Doctor helping transformational leaders find...

Grant D. Fairley

A master story teller who encourages and motivates a...

Alan Berg

A leader in the field of marketing to brides for loc...

Candace Reese

The CEO Pundit: Empowerment Speaker, Inspirational C...

Joseph Covelle

Speaking From the Heart To Help Change Minds

Michel Neray

Principal, The Essential Message: Learn To Different...

Tina Marie Jones

Connecting with the audience through the style of a ...

LisaVanAllen

The Biz Doctor with prescriptions for your success!

Andrea Raquel

Trained Broadcast Journalist / Marketing Pro & Exper...

Barbara Rozgonyi

Elevating Events with Creativity and Innovation via ...

Mo Stegall

Global Brand Ambassador, Motivational Speaker, Bests...

Debbie Lundberg

Author, Keynote Speaker, Facilitator, Corporate Trai...

Dawnna St Louis

Uninhibited Action For Unprecedented Business Growth

Christi Tasker

Social Media Branding Queen and Keynote Speaker

Roberto Alas

Reaching and identifying the potential in every sing...

Tonisha Pinckney

Empowerment Beyond Victimization - Author of I AM MO...

Adora Svitak

Writer, Speaker, Education Advocate, and Child Prodigy

Sherri Henley

Author, Expert in Speaking, Social Media Intelligenc...

David Hyner

Professional Speaker, "The Massive Goal Principle"

Caspar Berry

Renowned Expert on Risk-Taking and Decision-Making
More like Joel