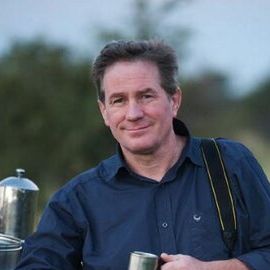 With over 20 years and 27 stories for the National Geographic Society and National Geographic magazine, Joel Sartore is one of the country's preeminent nature photographers. Focusing on endangered species, natural history, and land use issues, he has covered everything from the remote Amazon rain forest to firefighters in the UK.
Sartore's interest in wildlife began in childhood, when he learned about the very last passenger pigeon, and as he began work with National Geographic, he became passionate about environmental protection. For Sartore, "It is folly to think that we can destroy one species and ecosystem after another and not affect humanity. When we save species, we're actually saving ourselves."
A passionate environmental speaker, Joel Sartore is also the author of several books, including Photographing Your Family, Face to Face with Grizzlies, Nebraska: Under a Big Red Sky, and his latest, RARE: Portraits of America's Endangered Species. His work has also been featured nationally on the NBC Nightly News, NPR's Weekend Edition, a PBS documentary, and in regular contributions to CBS Sunday Morning.
Videos
---
Speech Topics
---
Team Building: From Jungle to Boardroom
There's no clocking out early when you're National Geographic photographer Joel Sartore. The far corners of the Earth aren't all that different from the conference room, the sales presentation, or the cubicle; going the extra mile and building a team to deliver excellent results means the difference between ordinary and extraordinary.
Grounded: A Reflection on the Use of Life and Land
When Joel Sartore's wife was diagnosed with breast cancer, this National Geographic photographer who had traveled the world for 18 years knew it was time to stay home. He reconnected with his family and with why he takes pictures in the first place: to show people that wild places and creatures on Earth need and deserve protection. In each life there is the potential for a positive change, and realizing it often starts very simply.
Witnessing Change: Making Sense of Global Warming
From the decline of tropical amphibians to the melting of polar ice, Sartore has seen and photographed the effects of global warming firsthand. See how even a slightly warmer Earth is already bringing about surprising change.
Related Speakers View all
---
Michael Nichols

Editor-at-Large Photography , National Geographic ma...

Mattias Klum

Natural History Photgrapher - Portrays threatened en...

David Doubilet

Renown underwater photographer for National Geograph...

Beverly and Dereck Joubert

Documentary filmmakers Beverly and Dereck Joubert ha...

Maria Stenzel

Over the past 17 years, Maria Stenzel has traveled t...

Dennis Dimick

Executive Editor, Environment, National Geographic

Sylvia Earle

Oceanographer, National Geographic Explorer-In-Resid...

Annie Griffiths

Photographer for National Geographic; Womens Rights ...

Brian Skerry

Brian Skerry is a National Geographic Magazine photo...

Mark Moffett

Entomologist

John Francis

John Francis walks the Earth, carrying a message of ...

Chad Pregracke

Founder of Living Lands & Waters, CNN's Hero of the ...

Barton Seaver

National Geographic Fellow, Ocean Conservationist, C...

Donald Johanson

Paleoanthropologist

Nalini Nadkarni

The Queen of Rainforest Canopy Research

Frans Lanting

Nature photographer

Kim McKay

Author of National Geographic Book Series "True Gree...

Paul Nicklen

Canadian biologist and photographer; Best known for ...

Robert Ballard

Renowned Ocean Explorer and Scientist

Enric Sala

Working at the intersection of science and policy, E...
More like Joel