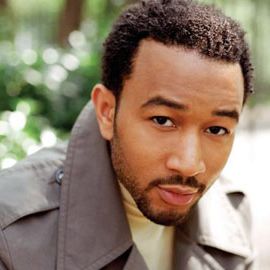 John Legend
Nine-Time Grammy Award Musician & Philanthropist; Known for "All of Me, "Ordinary People" & "You and I (Nobody In The World)"
Nine-time Grammy Award winner, John Legend is a multi-talented artist known for his signature vocals and songwriting style which has earned him legions of worldwide fans along with a string of Top 10 platinum-selling albums. His albums Get Lifted (2004), Once Again (2006), and Evolver (2008) each reached #1 on the Billboard R&B/Hip Hop charts. He has collaborated with some of the best in the business and has written for numerous artists on bestselling recordings by artists including Lauryn Hill, Alicia Keys, Jay-Z and Kanye West.
John's debut album, Get Lifted, earned eight Grammy nominations; won Best New Artist, Best R&B album and Best Male R&B Vocal Performance for Ordinary People while selling more than three million copies worldwide. His follow-up album, Once Again, earned an RIAA platinum certification and a Grammy award for Heaven, which also won Best Male R&B Vocal Performance. In 2008, John released Evolver, his third Top 10 album and embarked on an extensive world tour with his ten-piece band.
Most recently, John and the band The Roots released Wake Up! (2010), a compilation of music from the 60's and 70's all with an underlying theme of awareness, engagement and social consciousness which won two Grammy Awards for Best R&B Album and Best Traditional R&B Vocal Performance. The album is highlighted with tracks like Little Ghetto Boy by Donny Hathaway and Baby Huey and the Babysitters' Hard Times. Wake Up! also includes John's original composition Shine, which won a Grammy award for Best R&B Song and is featured in Oscar award winner Davis Guggenheim's domestic education reform documentary Waiting for Superman.
Throughout his career, John has worked to make a difference in the lives of others. In 2007, John Legend launched the Show Me Campaign, an organization that works to break the cycle of poverty through education.
John was awarded the 2010 BET Humanitarian of the Year award, the 2009 CARE Humanitarian Award for Global Change, the 2009 Bishop John T. Walker Distinguished Humanitarian Service Award from Africare, and the 2012 Harvard Foundation Artist of the Year Award.
John sits on the Boards of Teach for America, Stand for Children and the Harlem Village Academies. He serves on the Advisory Council for Turnaround and is an "IRC Voice" for the International Rescue Committee. John is also the national spokesperson for Management
Leadership for Tomorrow, a non-profit organization that assists the next generation of minority business leaders. In 2007, John was named spokesman for GQ Magazine's "Gentlemen's Fund", an initiative to raise support and awareness for five cornerstones essential to men: opportunity, health, education, environment, and justice. He is also a member of the Board of Directors of PopTech, a unique innovation network with a mission to accelerate the positive impact of world changing people, projects and ideas.
John hosted and performed at TED talks Education, TED's first television special. He starred in The People Speak, a film about social change in the U.S. and is a frequent guest on political talk shows including Real Time with Bill Maher, Anderson Cooper 360º and MSNBC's Morning Joe. He supported President Barack Obama's presidential campaign in 2008 and 2012, premiering his song, If You're Out There, at the 2008 Democratic National Convention.
John partners with Samsung to support education initiatives, with a special focus on science, technology, engineering, and mathematics (STEM). In response to devastation surrounding Hurricane Katrina, he worked with Tide laundry detergent to address the needs of families in hard-hit areas. John partners with Product (RED), which benefits the Global Fund for AIDS, TB and Malaria.
John was named one of Time Magazine's 100 most influential people, and in his tribute to John, Quincy Jones explained: "He is a genius...we've seen only the tip of the iceberg. For all that he has already achieved in his career, it is going to be fun watching where he goes from here."
In 2015, Legend launched #FREEAMERICA, a multi-year cultural change campaign focused on ending mass incarceration. As a respected artist, Legend is using his platform to engage stakeholders from all areas of the criminal justice system to work towards that goal.
Legend released his album Darkness and Light, with first single "Love Me Now," on December 2, 2016 with songs featuring Chance the Rapper and Miguel.
Speech Topics
---
John Legend can speak on a variety of topics including education, education reform, civil rights, philanthropy, activism, social change and politics. Also, he is an experienced moderator, panelist, commencement speaker.
Books
---
Related Speakers View all
---
Sir Richard Branson

Founder of Virgin Group

Jimmy Wales

Co-founder of Wikipedia and Mobile Phone Carrier The...

Dan Ariely

Behavioral Economist, Professor at Duke University, ...

Kurt Andersen

Host, "Studio 360 from PRI and WNYC"; Author

Parag Khanna

The World's Leading Geo-Strategist; Author of Second...

Calvin Trillin

Author, Columnist, Humorist & Political Satirist

Moby

Musician, DJ, Photographer

An Phung

Multimedia Journalist

Ray Kurzweil

Chairman, Kurzweil Technologies & A Director of Engi...

Arianna Huffington

Former President & Editor-in-Chief of The Huffington...

Graham Hill

Founder, Life Edited

Cody Adams

Managing Editor of The Floating University.

Brian Hoffstein

Contributing Writer

Steven Mazie

Associate Professor of Political Studies, Bard High ...

Van Jones

CNN Contributor, Best-selling Author; Human Rights, ...

Baratunde Thurston

Supervising Producer at "The Daily Show", Technology...

Virginia Postrel

Writes on The Intersection of Commerce & Culture; Au...

David Remnick

Editor, The New Yorker

Jim Lehrer

Anchor, Co-Anchor and Executive Editor, PBS Newshour...

Rosabeth Moss Kanter

Author & Harvard University Professor Who Specialize...
More like John