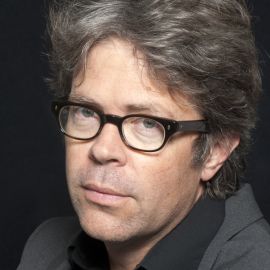 When The Corrections was published in the fall of 2001, Jonathan Franzen was probably better known for his nonfiction than for the two novels he had already published. In an essay he wrote for Harper's in 1996, Franzen lamented the declining cultural authority of the American novel and described his personal search for reasons to persist as a fiction writer. "The novelist has more and more to say to readers who have less and less time to read," he wrote. "Where to find the energy to engage with a culture in crisis when the crisis consists in the impossibility of engaging with the culture?"
Five years after publishing the Harper's essay, Franzen became fully engaged with his culture. The Corrections was an enormous international bestseller, with translations in 35 languages, American hardcover sales of nearly one million copies and nominations for nearly every major book prize in the country - Franzen was awarded the National Book Award for this novel. As if sales and critical acclaim weren't enough to boost his profile, the author found himself in a public relations imbroglio over his conflicted reaction to his book's endorsement by Oprah's Book Club.
Jonathan Franzen's first novel, The Twenty-Seventh City (1988), was a reimagination of his hometown, St. Louis, through the eyes of conspirators and terrorists from southern Asia. His second novel, Strong Motion (1992), was a thriller-cum-love-story set in the student slums of Boston. Both books displayed Franzen's ability to connect the personal and the political, the emotional and the social, in compelling and richly textured narratives.
Born in Western Springs, Illinois, in 1959, Jonathan Franzen grew up in Webster Groves, Missouri, a suburb of St. Louis. After graduating from Swarthmore College in 1981 he studied in Berlin as a Fulbright scholar and later worked in a seismology lab at Harvard. Franzen is also the author of a bestselling collection of essays, How to Be Alone and The Discomfort Zone. He recently published a new English translation of the play Spring Awakening by Frank Wedekind. He has written the New York chapter of Matt Weiland and Sean Wilsey's 2008 collection State by State: A Panoramic Portrait of America, inspired by the state guides written for the WPA in the 1930s. His short stories and his essays, including political journalism, have most recently appeared in The New Yorker, The Best American Essays, The New York Times, and The Guardian.  In 2009 The Corrections was named as one of the "100 Best Books of the Decade" by The Times (London).  His most recent novel is entitled Freedom, (Farrar, Straus & Giroux - August 2010).  In August 2010, Jonathan Franzen was featured on the cover of TIME Magazine -- only the second time in a decade that a living writer has been on the cover of this national magazine. In September 2010 Freedom was selected as the Oprah's Book Club reading selection.
Videos
---
Related Speakers View all
---
Calvin Trillin

Author, Columnist, Humorist & Political Satirist

Cody Adams

Managing Editor of The Floating University.

An Phung

Multimedia Journalist

Sir Richard Branson

Founder of Virgin Group

John Legend

Nine-Time Grammy® Award Musician & Philanthropist; K...

Parag Khanna

The World's Leading Geo-Strategist; Author of Second...

Billy Collins

Poet

Brian Hoffstein

Contributing Writer

Julia Bolz

Women's Rights Activist

Kurt Andersen

Host, "Studio 360 from PRI and WNYC"; Author

Jacques Pepin

Master French Chef, Food Columnist, Cookbook Author,...

Anthony Fauci

Dr. Anthony S. Fauci, a native of Brooklyn, New York...

Moby

Musician, DJ, Photographer

Graham Hill

Founder, Life Edited

Sebastian Copeland

Photographer, Extreme Athlete, and Environmental Act...

Jimmy Wales

Co-founder of Wikipedia and Mobile Phone Carrier The...

Dan Ariely

Behavioral Economist, Professor at Duke University, ...

Dan Gilbert

Psychologist; Happiness Expert

Jorie Graham

Pulitzer Prize-Winning Poet

Peter Thiel

Former CEO and Co-founder of PayPal; Technology Entr...
More like Jonathan