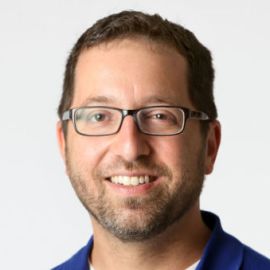 Jordan Ellenberg
Internationally Renowned Mathematician; Author of "How Not to Be Wrong: The Power of Mathematical Thinking"
Jordan Ellenberg grew up in Potomac, MD, the child of two statisticians. He excelled in mathematics from a young age, and competed for the U.S. in the International Mathematical Olympiad three times, winning two gold medals and a silver. He went to college at Harvard, got a master's degree in fiction writing from Johns Hopkins, and then returned to Harvard for his Ph.D. in math. After graduate school, he was a postdoc at Princeton. In 2004, he joined the faculty of the University of Wisconsin at Madison, where he is now the Vilas Distinguished Achievement Professor of Mathematics. (Professional page)
Ellenberg's research centers on the fields of number theory and algebraic geometry, the parts of mathematics which address fundamental questions about algebraic equations and their solutions in whole numbers. Ellenberg's research has uncovered new and unexpected connections between these subjects and algebraic topology, the study of abstract high-dimensional shapes and the relations between them. Ellenberg was a plenary speaker at the 2013 Joint Mathematics Meetings, the largest mathematics conference in the world, and he has lectured about his research around the United States and in ten other countries. He has held an NSF-CAREER grant and an Alfred P. Sloan Fellowship, and in 2013 he was named one of the inaugural class of Fellows of the American Mathematical Society.
Ellenberg has been writing for a general audience about math for more than fifteen years; his work has appeared in the New York Times, the Wall Street Journal, the Washington Post, Wired, The Believer, and the Boston Globe, and he is the author of the "Do the Math" column in Slate. His Wired feature story on compressed sensing appeared in the Best Writing on Mathematics 2011 anthology. His novel, The Grasshopper King, was a finalist for the 2004 New York Public Library Young Lions Fiction Award.
Related Speakers View all
---
John Green

New York Times Bestselling Author; Known for "The Fa...

Brad Thor

Novelist & Author of "The Lions of Lucerne," "Path o...

David McCullough

Historian and Celebrated Author

Thomas C. Foster

Authority on Reading and Understanding Literature

E.L. James

Author of the Bestselling "Fifty Shades Trilogy"

Peter Thiel

Former CEO and Co-founder of PayPal; Technology Entr...

Marie Kondo

Japanese Organizing Consultant & Author; One of TIME...

Edward Frenkel

Professor of Mathematics at UC Berkeley

Lou Aronica

Bestselling Author, "Creative Schools" and "The Elem...

Anthony Doerr

Fiction Writer, Won the Pulitzer Prize for Fiction &...

William Finnegan

Staff Writer at The New Yorker, Author of Bestseller...

Catherine Coulter

Author of 61 NY Times Bestsellers, Known for Writing...

Wednesday Martin

Author and Blogger on Parenting, Bestselling Author ...

Ta-Nehisi Coates

Senior Editor of The Atlantic; Bestselling Author of...

Steven Strogatz

Mathematician, Writer, Cornell Professor and NY Time...

Paula Hawkins

Author of "The Girl on the Train"

Chris Colfer

Golden Globe Winning Actor, Singer, Screenwriter & N...

Erik Larson

Author of "Devil in the White City" & "Dead Wake"

Stephen King

Author of Contemporary Horror; Won Best Myster and T...

Jo Boaler

Professor, Mathematics Education and Teacher Educati...
More like Jordan