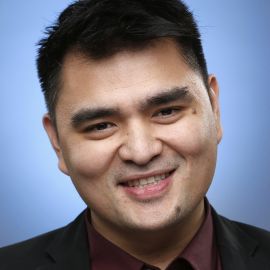 Jose Antonio Vargas is a journalist, filmmaker and immigration activist. Born in the Philippines and raised in the United States from the age of 12, he was part of The Washington Post team that won the Pulitzer Prize for Breaking News Reporting in 2008 for their coverage of the Virginia Tech shootings online and in print. Vargas has also worked for The San Francisco Chronicle, The Philadelphia Daily News and The Huffington Post. He wrote, produced and directed the autobiographical 2013 film "Documented," which was presented by CNN Films and aired in June 2014.
In a June 2011 essay in The New York Times Magazine, Vargas revealed his status as an undocumented immigrant in an effort to promote dialogue about the immigration system in the US. It was also a way to advocate for the DREAM Act, which would help children in similar circumstances have a path to citizenship. A year later, a day after the publication of his Time cover story about his continued uncertainty regarding his status, the Obama administration announced its halt to the deportation of undocumented immigrants age 30 and under eligible for the DREAM Act; Vargas himself did not qualify as he had just turned 31.
Vargas is the founder of "Define American," a non-profit organization intended to open up dialogue about the criteria people use to determine who is an American. About himself he says, "I am an American. I just don't have the right papers."
On July 15, 2014, after living for 21 years in the United States as an undocumented resident, Vargas was arrested by immigration authorities while trying to fly out of the border town of McAllen, Texas. He was released several hours later after being questioned.
Related Speakers View all
---
Hector Tobar

Pulitzer Prize Winner, Journalist & Best-selling Aut...

Chaz Bono

Transgender, LGBT Rights Advocate, Author, Speaker

Ronan Farrow

American Activist, Journalist, Lawyer and Former Adv...

Gabrielle Union

Actress & Women's Rights Activist

Danny Glover

Acclaimed Actor & Leading Social Activist.

Esera Tuaolo

NFL Veteran & LGBT Role Model

Bernie Sanders

U.S. Senator, Vermont; Longest Serving Independent M...

Carson Kressley

Queer Eye for the Straight Guy, Bravo

Reverend Al Sharpton

African-American Preacher & Activist; Foremost Civil...

Don Lemon

Emmy Award-Winning News Anchor & Journalist; Current...

Lawrence Lessig

Director, Edmond J. Safra Center for Ethics, Harvard...

Jim Obergefell

Lead Plaintiff in the US Supreme Court Same-Sex Marr...

Dolvett Quince

Fitness Guru and Trainer from "The Biggest Loser"

Dewey Bozella

Arthur Ashe Courage Award Winner & Boxer

Harold Ford, Jr.

Former U.S. Representative & Political Analyst for M...

Marlee Matlin

Academy Award Winning Actress & Activist

Jalen Rose

ESPN Analyst & Former NBA Player

Kevin Powell

Writer, Humanitarian, President of BK Nation

The Tuohy Family

Inspirational Subjects of The Blind Side

Cory Booker

US Senator from New Jersey and Author of "United"
More like Jose