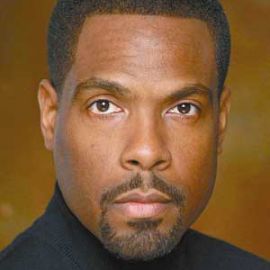 Joseph Phillips is an accomplished author and a riveting speaker covering a broad range of topics -- American idealism, family values, and character and cultural issues. The venues have also covered a wide gamut: Mr. Phillips has hosted benefits, taught workshops and given keynote addresses at conservative-based functions, community groups, colleges and high schools throughout the country. Mr. Phillips' passionate thoughts on family, faith, and freedom leaves audiences both moved and enthralled.
Few other speakers can claim to have starred on the number one rated television program of the 1980's -- "The Cosby Show" -- and worked as a surrogate for the President of the United States of America; starred on the number on rated daytime drama and syndicated a popular weekly column and authored a best-selling book, "He Talk Like a White Boy." He has also performed on Broadway, off-Broadway and in regional theatre stages and been an Abraham Lincoln fellow for the Claremont Institute. Phillips is a true Renaissance man with something to say, and a unique way of saying it.
His feature films include starring rolls in "Strictly Business," "Let's Talk About Sex" and "Midnight Blue." Besides his starring role on "The Cosby Show," he was a three time NAACP Image Award Nominee for his portrayal of Attorney Justus Ward on the daytime drama General Hospital. For two seasons he appeared as Mayor Morgan Douglas on the CBS series "The District," recurred as Marcus Johnson on the hit CBS series "Without A Trace" and currently appears as JT Morse on the Fox Series "Vanished." He has had guest starring roles on "Las Vegas," "Jack and Bobby," "The King of Queens," "Judging Amy," "Family Law," "Martin," "The Larry Sanders Show," "City of Angels," "Any Day Now," and "The Parkers," among others.
As a writer, Mr. Phillips has had essays published in Newsweek, Los Angeles Daily News, Essence Magazine, USA Today and many others. His weekly column, "The Way I see It" appears in numerous publications across the country.
His greatest passion is Nicole, his wife of 12 years, and their three children, Connor, Ellis and Samuel.
Related Speakers View all
---
Kate Obenshain

Defender of conservative principles; Co-founder of J...

Doug Giles

Conservative Columnist and Political Commentator

Mike Adams

Conservative, Free Speech Advocate and Author

Manuel Miranda

Chairman of the Third Branch Conference, a coalition...

Nonie Darwish

Egyptian-American Human Rights Activist; Founder of ...

Frank Donatelli

Executive Vice President and Director of Federal Pub...

Dan Flynn

American conservative, author and former executive d...

Humberto Fontova

Cuban-American author, blogger, political commentato...

Katie Pavlich

Political Reporter and Author of "Fast and Furious: ...

Earl Johnson

Author of "Stairwell to Heaven -- A 9-11 World Trade...

Anne Korin

Co-director of the Institute for the Analysis of Glo...

Phelim McAleer

Director and producer of documentaries "FrackNation,...

Ann McElhinney

Documentary filmmaker; director and producer of cont...

Jason Mattera

American writer, conservative activist, radio host a...

Patrick Coyle

Vice President for Young America's Foundation

Byron York

Chief political correspondent for the Washington Exa...

Erick Erickson

Editor of "The Resurgent," Co-Author of "Redstate Up...

Jesse Lee Peterson

President and founder of The Brotherhood Organizatio...

Robert Spencer

Expert on Islam & Director of JihadWatch

John Reitzell

Served as the Reagan Administration's Department Of ...
More like Joseph