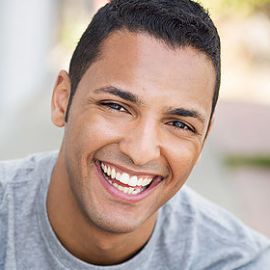 Julian Dujarric
Reporter, producer, and on-air host who most recently worked as an international correspondent for "Channel One News"
Julian is a television reporter, producer, and on-air host who most recently worked as an international correspondent for "Channel One News" - the #1 source of news for America's teen students. During his time at Channel One, he produced, wrote, and edited many of his own stories, including a feature on Grammy award-winning superstar Ne-Yo and his compound foundation and a U.S. / Mexico border crossing simulation in the rural town of El Alberto, Mexico.
The beginning of his career had him working as a movie correspondent for TUN, a national university television network with a viewership of 2 million students. From there, he hosted the nationally-syndicated American Latino TV, which profiles U.S. and foreign-born latinos who are making a positive impact on American society.
He went on to work for the city of New York's NYC Media where he hosted a number of interstitial segments in addition to the Emmy award-winning, environmental program "The Green Apple: Recycling" - a project for which he received an Emmy-nomination for Best Program Host / Moderator.
Click Here to register and get pricing on booking Julian Dujarric for your next event!
Videos
---
Get notified of new talks and events.
Follow
Related Speakers View all
---
Mel H. Abraham

He has a riveting presence, created by his absolute ...

Milt Abel

Milt Abel is a corporate-clean stand-up comedian tha...

Mike Abrashoff

Former Commander of USS Benfold and Author of "It's ...

J.J. Abrams

Director, Producer, Writer, Author; Known for His Wo...

Melvin Adams

Former Harlem Globetrotter with a Passion for Reachi...

Kirk Acevedo

Actor Best Known for His Roles on "Dexter," "Band of...

Jose Antonio Abreu

Founder of El Sistema, Which Helps Venezuelan Childr...

Carol Adelman

Carol Adelman is a senior fellow and director of Hud...

Newton Aduaka

Newton Aduaka's award-winning Ezra, told through the...

Janus Adams

Award-Winning Journalist

Jenoyne Adams

African-American Novelist.

Khandi Alexander

Khandi Alexander (born September 4, 1957) is an Amer...

Shaun Alexander

NFL Great

Laila Ali

Undefeated 4 Time World Champion Boxer 24-0 with 21 ...

Alan Alda

Actor, Writer, Science Advocate, and Director

Adewale Akinnuoye-Agbaje

Fashion Model & Actor Known for "Lost," "Oz" & "Suic...

Jane Alexander

Actress and Former Director of the National Endowmen...

Bruce Aitken

Bruce Aitken was born in Invercargill New Zealand wh...

Gary Aldrich

On Independence Day, 1996, former FBI Agent Gary Ald...

Marilyn Albert

Dr. Marilyn Albert received her PD degree in Physiol...
More like Julian