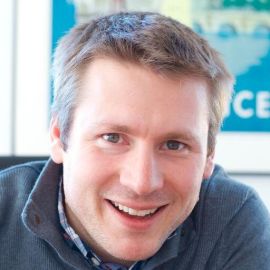 Julien Bellanger
Co-Founder & CEO, Prevoty
Julien Bellanger is the co-founder and CEO of Prevoty, a next-generation application security platform. Most recently, Julien founded Personagraph, an Intertrust company focused on mobile user privacy. Before joining Intertrust as Director of Corporate Development, he built and led Thomson/Technicolor's digital advertising business unit in Latin America. Julien started his career as a Corporate Auditor at Thomson/Technicolor after launching his first startup in college, the first French social network exclusively for students. Julien received a B.S. from I.S.G and an MBA from the Tuck School of Business at Dartmouth College.
Click Here to register and get pricing on booking Julien Bellanger for your next event!
Get notified of new talks and events.
Follow
Related Speakers View all
---
Reed Shaffner

Co-Founder & Co-CEO, Workpop

John Ball

Founder & Managing Director, Steamboat Ventures

Sean Brecker

CEO, Headspace

Sam Teller

Managing Director & Co-Founder, Launchpad LA

Jamie Kantrowitz

Mentor, Launchpad LA

Steve Pomerantz

Co-Founder, Tuition.io

Brendon Mcqueen

Co-Founder & CEO, Tuition.io

Arun Mehra

Co-CEO, Talenthouse

Amos Pizzey

Co-Founder & Co-CEO, Talenthouse

Roman Scharf

Chairman & Co-CEO, Talenthouse

Kunal Anand

Co-Founder & CTO, Prevoty

David Asarnow

Principal, Craton Equity Partners

Matt Sandler

Co-Founder & CEO, Chromatik

Zach Frechette

Co-Founder & CEO, Quarterly

David Norris

Founder & CEO, MD Insider

Paul Bricault

Founder & MD, Amplify.LA

Michael Todd

Co-Founder & CTO, Victorious

Mike Townsend

Co-Founder, HomeHero

Kyle Hill

Co-Founder, HomeHero

Jenna Stahl

Co-Founder & Creative Director, Shop Hers
More like Julien