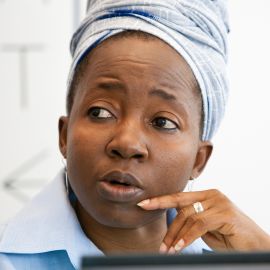 Kah Walla
Entrepreneur, Activist and Political Leader from Cameroon. CEO/Founder of Strategies! Consulting Firm and President of Cameroon People's Party.
KAH WALLA, is a CEO, Social Entrepreneur and Political Leader. The consulting firm STRATEGIES!, she created in April 1995, is internationally recognized for its expertise in leadership and strategy development services. Kah WALLA is an avant-garde African Political Leader who connects grassroots to global. In 2011, she challenged the status quo by becoming the first woman to run for the presidency of her nation with the Cameroon People Party (CPP), which she currently leads as the National Chairperson. Kah WALLA's untiring work to improve democracy and living conditions in Cameroon for ordinary people have earned her international awards including the 2015 Vital Voices Global Leadership Vanguard Award and 2014 DVF Award. She was recognized in 2008 by the World Bank's Doing Business - Women in Africa as one of five key African women acting for business environment reform in Africa. In 2010, she was named by Daily Beast Magazine as one of the 150 women who shake the World and in 2011, as one of the 100 most influential Africans by New African Magazine.
Click Here to register and get pricing on booking Kah Walla for your next event!
Videos
--- Speech Topics
---
Macro Trends in Africa
Political, Economic and Social trends in Africa and their implications on: • African Institutions. •Governance. •Development. •Entrepreneurship.
Entrepreneurship in Africa
• Building Entrepreneurial Ecosystems at macro, meso and micro levels. • Entrepreneurship in the Informal Sector. • Women's Entrepreneurship in Africa. • Youth Entrepreneurship in Africa.
African Leadership
• Traditional African Governance. • Women and Power in Traditional Governance. • Historical and Modern Leadership by African. • Historical and Modern leadership by African Women.
Inspirational Talks
Personal Experiences as : • An African Entrepreneur. • An African Political Leader.
Links
---
News
---
Kah Walla Speaks on Investing in Women Leaders at the Vital Voices VV100 Conference
The CEO of STRATEGIES! Consulting Firm, KAH WALLA joined 99 other exceptional women from the Vital Voices Global Leadership Network for the Vital Voices VV 100 Conference: A strategic gathering, which held in San Francisco, USA on October 10-14.
Kah Walla led the discussion on "Investing in Women Leaders" which focused on the unique role women play in public leadership, how to build personal capacity and galvanize the network.
Kah Walla Speaking at the 2016 International Women's Forum
The CEO of STRATEGIES!, Kah Walla, was speaker at the 2016 International Women's Forum - World Leadership Conference which held in Chicago, USA on September 28th - 30th, 2016 under the theme: "Crossroads For Change".
The IWF World Leadership Conference conducted annually attracts the world's leading women from over 50 countries to harness must-have conversations to inspire women leaders to stay ahead of the much-needed change. KAH WALLA was invited, amongst other "Women leading Change", to speak on Power, passion and promise: Leading us forward. Kah: "We have the ability to re-define power".
Get notified of new talks and events.
Follow
Related Speakers View all
---
Mel H. Abraham

He has a riveting presence, created by his absolute ...

Milt Abel

Milt Abel is a corporate-clean stand-up comedian tha...

Mike Abrashoff

Former Commander of USS Benfold and Author of "It's ...

J.J. Abrams

Director, Producer, Writer, Author; Known for His Wo...

Melvin Adams

Former Harlem Globetrotter with a Passion for Reachi...

Kirk Acevedo

Actor Best Known for His Roles on "Dexter," "Band of...

Jose Antonio Abreu

Founder of El Sistema, Which Helps Venezuelan Childr...

Carol Adelman

Carol Adelman is a senior fellow and director of Hud...

Newton Aduaka

Newton Aduaka's award-winning Ezra, told through the...

Janus Adams

Award-Winning Journalist

Jenoyne Adams

African-American Novelist.

Khandi Alexander

Khandi Alexander (born September 4, 1957) is an Amer...

Shaun Alexander

NFL Great

Laila Ali

Undefeated 4 Time World Champion Boxer 24-0 with 21 ...

Alan Alda

Actor, Writer, Science Advocate, and Director

Adewale Akinnuoye-Agbaje

Fashion Model & Actor Known for "Lost," "Oz" & "Suic...

Jane Alexander

Actress and Former Director of the National Endowmen...

Bruce Aitken

Bruce Aitken was born in Invercargill New Zealand wh...

Gary Aldrich

On Independence Day, 1996, former FBI Agent Gary Ald...

Marilyn Albert

Dr. Marilyn Albert received her PD degree in Physiol...
More like Kah