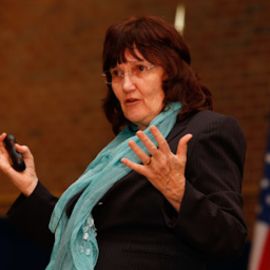 Dr. Kathryn Seifert has had over 30 years experience in mental health, addictions, and criminal justice work. She founded Eastern Shore Psychological Services, a multidisciplinary private practice that specializes in working with high-risk youth and their families. She writes and lectures nationally and internationally on the topics of violence, risk assessment, sex offenders, suicide prevention, school based mental health programs, and stress management. She advocates for the highest quality services for all children needing mental health treatment.
Her first book was How Children Become Violent: Keeping Your Kids Out of Gangs, Terrorist Organizations, and Cults. Her second book, "Youth Violence: Theory, Prevention, and Intervention" has been released by Springer and is available on Amazon. Her assessment is the CARE-2: Child and Adolescent Risk/ Needs Evaluation. Visit her website at www.DrKathySeifert.com. Dr. Seifert has appeared on CNN, EBRU TV, Discovery ID, FOX news Radio, Man Cow, and WLW Radio.
Click Here to register and get pricing on booking Dr. Kathryn Seifert for your next event!
Reviews
---
Anne Arundel Public Schools, CNN, Discovery Channel

Dr. Seifert has a vision of hope that is sorely needed in our schools and in professional counseling circles. She brings fresh insight to problems that many think are unsolvable. And her commitment to making a positive difference in the lives of kids is relentless. I was both shocked and inspired. She is an incredible lady.

John Wright
On Al Smith's Radio show on Well and Wise Online

Dr. Seifert and I have worked together on a couple projects over a number of months. She has wonderful insight in many areas of psychology. Indeed, CNN thought so highly of her that she was interviewed on Anderson Coopre\'s program regarding the Tuscon Shootings. Along the same lines, I had the pleasure of discussing the effects of mental and physical abuse on childrren and how that manifests itself on those people through adulthood. I would highly recommend Dr. Seifert professionally. And as I have come to know her through our work together, I kow that she is a caring person as well. Al Smith

Kathryn Seifert

· ESPS, LLC
February 24, 2011, Princess Anne, MD 21853

My agency has benefited from Dr Kathy's presentations on
several prior occasions and on
February 24, 2011, she presented a workshop on identifying potentially dangerous people and working with them so as to minimize or control the risk to oneself. We are happy to be able to work with Dr Kathy because
she is original, knowledgeable, and enthusiastic and those qualities
are conveyed in her presentation style. She has a well-honed ability
to speak to a mixed crowd of experienced professionals and newer
paraprofessionals without talking down to anyone or speaking over
peoples' heads. We request evaluations from our workshop participants
and Dr Kathy has always rated very high both in content and style. I
am certain you will be pleased with her work.

Richard Bearman
Speech Topics
---
Violence Risk Reduction Planning
Youth violence is a public health issue. It is important to identify youth at risk for violence so that risk and resiliency factors can be identified for evidence based interventions. In this way an individualized risk reduction plan can be implimented by counselors and therapists. Learn how to help young people move toward a pro-social and life effective path.
Get notified of new talks and events.
Follow