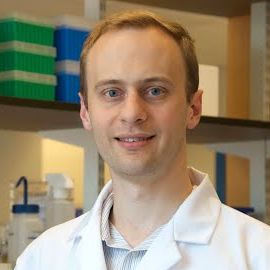 Kevin Esvelt
Assistant Professor, Leader, Sculpting Evolution Group, MIT Media Lab
Kevin Esvelt is an assistant professor at MIT Media Lab, where he leads the Sculpting Evolution group in exploring evolutionary and ecological engineering. After receiving his PhD at Harvard for inventing a synthetic microbial ecosystem to rapidly evolve useful biomolecules, he held two fellowships at Harvard and helped pioneer the development of CRISPR, a new method of genome engineering. In 2013, Esvelt was the first to identify the potential for CRISPR "gene drive" systems to alter wild populations of organisms. An advocate of open science to accelerate discovery and improve safety, he seeks to use gene drive as a catalyst to reform the scientific ecosystem.
Kevin Esvelt is director of the Sculpting Evolution group, which invents new ways to study and influence the evolution of ecosystems. By carefully developing and testing these methods with openness and humility, the group seeks to address difficult ecological problems for the benefit of humanity and the natural world.
Prior to joining the MIT Media Lab, Esvelt wove many different areas of science into novel approaches to ecological engineering. He invented phage-assisted continuous evolution (PACE), a synthetic microbial ecosystem for rapidly evolving biomolecules, in the laboratory of David R. Liu at Harvard University. At the Wyss Institute, he worked with George Church to develop the CRISPR system for genome engineering and regulation, and he began exploring the use of bacteriophages and conjugation to engineer microbial ecosystems.
Esvelt is credited as the first to describe how CRISPR gene drives could be used to alter the traits of wild populations in an evolutionarily stable manner. And recently, he and his Sculpting Evolution group devised a new form of technology, called 'daisy drives', which would let communities aiming to prevent disease alter wild organisms in local ecosystems.
By emphasizing universal safeguards and early transparency, he has worked to ensure that community discussions always precede and guide the development of technologies that will impact the shared environment. Events
Related Speakers View all
---
Gil Weinberg

Professor and Director, Georgia Tech Center for Musi...

Geoffrey R. Stone

Edward H. Levi Distinguished Service Professor of La...

Robert Max Holmes, Ph.D.

Deputy Director, Senior Scientist, Woods Hole Resear...

Jacquelyn Gill

Assistant Professor of Paleoecology & Plant Ecology,...

Azim Shariff

Assistant Professor of Psychology and Social Behavio...

Jack Rakove

William Coe Professor of History and American Studie...

Diane Paulus

Terrie and Bradley Bloom Artistic Director, American...

Michele Moody-Adams

Stratus Professor of Political Philosophy and Legal ...

Joshua Johnson

Host, "1A"

Miriam Horn

Writer/Filmmaker, Environmental Defense Fund; Author...

J. Bryan Hehir

Parker Gilbert Montgomery Professor of the Practice ...

Joshua Greene

Professor of Psychology and Faculty Member, Center f...

Heather Gerken

J. Skelly Wright Professor of Law, Yale Law School, ...

Dr. Valentin Fuster

Director Mount Sinai Heart; Physician -in -Chief, Mo...

Peter Feaver

Professor of Political Science and Public Policy, Du...

Matthew Feinberg

Assistant Professor of Organizational Behavior, Rotm...

Banny Banerjee

Director, Stanford Change Labs; Professor, Stanford ...

Anita Allen

Henry R. Silverman professor of Law, Professor of Ph...

Jennifer Doudna

Technology Co-Inventor, CRISPR- Cas9

Mitch Resnick

Mitchel Resnick is LEGO Papert Professor of Learning...
More like Kevin