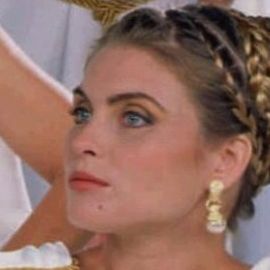 Kim Alexas
Supermodel, TV Personality, Health & Fitness Expert and Author
Most people know Kim Alexis for her captivating physical beauty. But there's more to her story than meets the eye. Her lifelong commitment to athletics, her stature as one of the world's first supermodels, her extensive experience in front of the camera, and her own encounters with physical trials have molded her into a woman uniquely equipped to speak to issues of fitness and women's health with real solutions. They also make her a natural fit for speaking engagements and commercial endorsements.Kim Alexis was born and reared in upstate New York. Always competitive, Kim was deeply involved in junior high and high school athletics and had planned a career in pharmacology.
At the age of 18, she was "discovered" by the Elite Talent Agency. She soon moved to New York City and thus began an unbelievable career in the modeling industry. In fact, it's as though the term "supermodel" was coined to describe her.
She quickly made her mark in the modeling industry, earning a stint as Revlon spokesperson, doing countless TV and print ads, and gracing the cover of over 500 magazines, not to mention six appearances in the coveted Sports Illustrated swimsuit issues.
More than just a model, Kim parlayed her good looks and bright mind into other opportunities, including broadcast journalism, where she hosted several television shows, and film and TV acting.
As her career has progressed, she's never lost her love of fitness. In recent years, she's focused on health and wellness issues for women, specifically by developing several fitness aids.
Kim is married to former New York Ranger Hockey Player Ron Duguay. Together with their five children, they live in beautiful North Florida.
Spokesperson:
Kim's timeless beauty is self-evident. But it took more than that to land her roles on hits like Cheers and Saturday Night Live. Kim is a tireless professional. And her contributions to Oprah, Good Morning America and other such shows are well-established. Combine these factors with her devotion to family, her passion for fitness and her empathy for women's health issues, and it's no wonder she's in demand for both speaking engagements and commercial endorsements.
Related Speakers View all
---
Heather Mitts

Member of the U.S. Women's Olympic Gold Medal Soccer...

Pat Smith

TV Persona, Entrepreneur and President & CEO of Emmi...

Debbie Phelps

Mother of Michael Phelps

Andrea Kremer

Emmy Award Winning Journalist; Correspondent for the...

Matt Iseman

Licensed physician and professional comedian, Host o...

Jayde Donovan

Radio and television personality, Former Corresponde...

Chris Powell

Trainer and Transformation Specialist on ABC's "Extr...

Ali Vincent

First Female Winner of "The Biggest Loser"

Gin Miller

Creator of Step Aerobics, Author of "Cooking Light" ...

Alex Jamieson

Vegan Chef from "Super Size Me" and Author of "The G...

Jim Coleman

Executive Chef and Host of the TV series "Healthy Fl...

Dr. Holly G. Atkinson

Award-winning Medical Journalist, Public Speakers, P...

Janet Brill

Nutrition and Fitness Expert, Media Spokesperson

Keri Glassman

Nutritionist on "Cook your Ass Off," Nutrition Exper...

Mitzi Dulan

Team Nutritionist for the Kansas City Royals; Certif...

Shannon Miller

Olympic Gold Medalist, Health Advocate & Cancer Surv...

Tamilee Webb

Fitness Expert and Instructor, Co-Host of "Fit TV"

Mark Bittman

Food Writer & Chief Innovation Officer at Purple Carrot

Dominique Dawes

Olympic Gold Medal-Winning Gymnast

Candice Kumai

Chef, Best-selling Author & Regular Judge on Iron Ch...
More like Kim