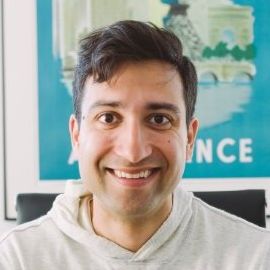 Kunal Anand
Co-Founder & CTO, Prevoty
Kunal Anand is the co-founder and CTO of Prevoty, a next-generation web application security platform. Prior to that, he was the Director of Technology at the BBC Worldwide, overseeing engineering and operations across the company's global Digital Entertainment and Gaming initiatives. Kunal also has several years of experience leading security, data and engineering at Gravity, MySpace and NASA's Jet Propulsion Laboratory. His work has been featured in Wired Magazine and Fast Company. He continues to develop the patented security technologies that power Prevoty's core products. Kunal received a B.S. from Babson College.
Click Here to register and get pricing on booking Kunal Anand for your next event!
Get notified of new talks and events.
Follow
Related Speakers View all
---
Reed Shaffner

Co-Founder & Co-CEO, Workpop

John Ball

Founder & Managing Director, Steamboat Ventures

Sean Brecker

CEO, Headspace

Sam Teller

Managing Director & Co-Founder, Launchpad LA

Jamie Kantrowitz

Mentor, Launchpad LA

Steve Pomerantz

Co-Founder, Tuition.io

Brendon Mcqueen

Co-Founder & CEO, Tuition.io

Arun Mehra

Co-CEO, Talenthouse

Amos Pizzey

Co-Founder & Co-CEO, Talenthouse

Roman Scharf

Chairman & Co-CEO, Talenthouse

Julien Bellanger

Co-Founder & CEO, Prevoty

David Asarnow

Principal, Craton Equity Partners

Matt Sandler

Co-Founder & CEO, Chromatik

Zach Frechette

Co-Founder & CEO, Quarterly

David Norris

Founder & CEO, MD Insider

Paul Bricault

Founder & MD, Amplify.LA

Michael Todd

Co-Founder & CTO, Victorious

Mike Townsend

Co-Founder, HomeHero

Kyle Hill

Co-Founder, HomeHero

Jenna Stahl

Co-Founder & Creative Director, Shop Hers
More like Kunal