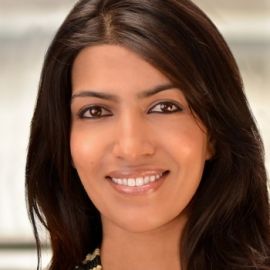 Leila Janah
A Celebrated Social Entrepreneur Bridging Technology and Lean Business Methods; AI and Machine Learning Expert
Leila Janah is a celebrated social entrepreneur who uses technology and lean business methods to promote social and economic justice. Named one of Fortune magazine's "Most Powerful Women Entrepreneurs" in 2013, Janah is the founder of the Sama Group, a family of impact enterprises that connect women, youth, and refugees living in poverty to microwork―small, computer-based tasks that build skills and generate life-changing income. Janah speaks with knowledge and passion on social entrepreneurship and how to harness the digital revolution to fight to end poverty.
In 2008, Janah founded Samasource, a social business that connects people living in poverty to work via the internet. Samasource provides work to poor women and youth in East Africa, South Asia, and Haiti through microwork, and offers offers high-quality data services to enterprise customers including LinkedIn, eBay, Walmart.com, and the US State Department. To date, Samasource has paid and trained over 4,000 women and youth in nine countries and disbursed four million dollars in wages. The organization has been featured widely in the press and received the 2012 Innovation Award from former US Secretary of State Hillary Clinton.
In parallel, Samahope is a website Janah co-founded to crowdfund medical treatments for people who can't afford them. The organization partners with local clinics and hospitals in poor communities with a track record of excellent care and fiscal discipline.
Janah's work with Sama Group enterprises has been featured widely in the media, with features in publications including The New York Times, CNN, Forbes, and Fast Company, and she is the subject of a chapter in the book, Hearts on Fire. She was named "Social Entrepreneur of the Year" by the Social Enterprise Alliance in 2011.
Janah serves as a director of CARE USA, a leading humanitarian organization fighting global poverty, and TechSoup Global, the world's largest provider of donated software to non-profits. She was named "Social Entrepreneur of the Year" by the Social Enterprise Alliance in 2011.
Speech Topics
---
Speaking Topics
The Microwork Revolution
Ending Poverty in the Digital Age
The Future of Work
Jobs Fight Poverty
Links
---
Related Speakers View all
---
Ping Fu

Vice President and Chief Entrepreneur Officer, GeoMa...

Alexis Maybank

Founder & Chief Strategy Officer, Gilt

Jessica Jackley

Co-Founder of Kiva, the Revolutionary Microlending W...

Ben Casnocha

Award-Winning Entrepreneur and Executive in Silicon ...

Dom Sagolla

Co-Creator of Twitter; Author, "140 Characters"

Jim McKelvey

Co-Founder of Square, Engineer and Entrepreneur; Fou...

Jan Fields

Former President of McDonald's USA

Bill Rancic

Apprentice Winner; Entrepreneuer & Star of "Giuliana...

Josh Linkner

Founder and CEO of HelloWorld, a Digital Promotions ...

Reshma Saujani

Founder, Girls Who Code and Candidate, New York City...

Alexis Ohanian

Partner at Y Combinator; Co-Founder of reddit, Entre...

Marilyn Tam

Founder and Executive Director of Us Foundation; for...

Luke Williams

Professor of Innovation and Entrepreneurship, NYU's ...

Mindy Grossman

Chief Executive Officer of HSN, Inc.

Betsy Myers

Leadership Expert; Author of "Take the Lead"; former...

Clara Shih

CEO and Founder of Hearsay Social, Author of "The Fa...

Randi Zuckerberg

Founder & CEO, Zuckerberg Media, Former Head of Mark...

Claire Diaz-Ortiz

Author, Speaker, Advisor to Startups & Social Enterp...

Arianna Huffington

Former President & Editor-in-Chief of The Huffington...

Peter Diamandis

Thought-leader & Founder and Chair of the X Prize Fo...
More like Leila