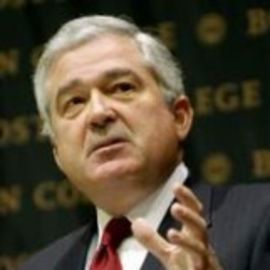 Lou Gerstner
As chairman and CEO of IBM, Lou Gerstner navigated one of the most dramatic turnarounds in corporate history.
As chairman and CEO of IBM, Lou Gerstner navigated one of the most dramatic turnarounds in corporate history. With unparalleled business acumen, he revived IBM ? a company whose very existence was in question in 1993 and made it into one of the most dynamic, customer-focused, and value-driven companies in the world. Gerstner?s presentations are straightforward and no-nonsense, stressing the importance of making smart choices and getting ahead by working harder than those around you. Gerstner?s recent best seller, Who Says Elephants Can?t Dance?, profiles his IBM experiences and the lessons he learned over the course of more than 30 years in business. One of the most admired men in the business community, Gerstner became chairman of The Carlyle Group in 2003. A lifetime advocate of the importance of quality education, he recently created a Commission on Teaching to help solve America?s growing education crisis. Prior to joining IBM, he served for four years as chairman and CEO of RJR Nabisco, Inc., 11 years at the American Express Company, and prior to that he was a director at McKinsey & Company.
Based on his experience leading the financial, competitive and cultural transformation of IBM, Lou Gerstner addresses the specifics of the turnaround, and shares his insights on the broader lessons of his experience and three decades leading major global businesses and brands.
Click Here to register and get pricing on booking Lou Gerstner for your next event!
Get notified of new talks and events.
Follow
Related Speakers View all
---
Michelle Courtney Berry

Breakthrough Expert, Founder and CEO of LifeFlowPlan...

Marti Barletta

Speaker, Consultant and author of Marketing to Women...

Pam Moore

CEO & Founder Marketing Nutz, Social Business Strate...

Micah Solomon

G5vdOD <a href="http://jyiqjbcrcjqd.com/">jyiqjbcrc...

Donald Sull

Senior Lecturer at MIT Sloan School of Management; C...

Tim Waterstone

One of the most astute and determined businessmen of...

Knauer Ulrike

You will have fun and learning about High-Performanc...

Ron Broussard

STRETCHYOURSELF

Ryan Vet

Entrepreneur, Leadership Speaker, Author, Start-up V...

Roberto Alas

Reaching and identifying the potential in every sing...

Gary Gopinathan

Leadership and Entrepreneurship

Brent Green

Brent Green presents a distinctive and challenging p...

Ram Charan

World-Renowned Business Advisor, Execution Expert an...

Robert Johansen

Bob Johansen, Ph.D., has worked for more than 35 yea...

Archie Norman

In 2009 Archie Norman was appointed non-executive Ch...

Tim Houston

Bestselling Author, Speaker & Entrepreneur who makes...

David Varney

He is a director or chairman roles at Shell.

Bill Jensen

Simplicity at Work Expert

Dermot Greene

Dermot's first passion is speechwriting, he believe...

Elizabeth Bowman

Innovatively Organized is a Seattle-based organizing...
More like Lou