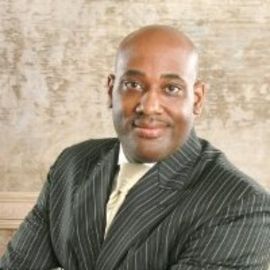 Luther Ragsdale
Luther Ragsdale is a real estate coach and speaker for Platinum Real Estate. He is located in Atlanta, Georgia
With over 25 years of experience in the real estate sector, Luther Ragsdale has become a reputable name in this field. He started his career in the late 80's, and since then he has come a long way. This real estate coach has helped the real estate coaching business turn into the success it is today, coaching young, raw talents, and shaping them into the best trained real estate professionals.
Luther Ragsdale is one of the most sought after coaches in the real estate business. With a unique coaching program, tailored to the individual needs of his clients, he passes on his expertise from one generation to another. Equipped with a deep understanding of the real estate market and the right set of skills, he has all the elements for bringing out the best in people.
By helping aspiring agents excel in the real estate industry he also helps them find their path to happiness and financial freedom. For ten years, Luther Ragsdale was the host and executive director of his own TV program "Wealth Building with Luther Ragsdale", traveling all over the world, and talking on a variety of topics. Over the course of his career, this amazing motivational and inspirational speaker has helped so many people gain access to their higher potential.
For the Atlanta agents the problem is even more acute because the balance of the country have above-average national wealth in physical assets in relation to financial. Only well-defined institutional framework to attract investment, clean land registry and ownership relations and arranged registers physical asset manager asset will contribute to improving the efficiency of the use of physical assets. Infrastructure fees and costs for inefficient use of assets and the so-called dead capital still are too high and are a major expenditure for the state and the organization, regardless of who controls it. The absence of this organizational structure or its deficiencies in the organization in which the balance sheets of large share of physical assets may have adverse economic consequences and is a key in terms of ecology.
In the process of real estate management begins to fulfill its role in the social media as a business partner of the other functions of society and support management, and administration. Although the application of new technology and support processes 'property' - management a little more specific and now offer the market lower, seen the great applicability and the need to use IT technology in the real estate management segment - says Ragsdale that the difference between 'asset' and 'facility'-management shows an interesting example.
Click Here to register and get pricing on booking Luther Ragsdale for your next event!
Videos
---
Speech Topics
---
Real Estate Coaching
The best real estate coaching available with Luther Ragsdale.
Get notified of new talks and events.
Follow
Related Speakers View all
---
Mel H. Abraham

He has a riveting presence, created by his absolute ...

Milt Abel

Milt Abel is a corporate-clean stand-up comedian tha...

Mike Abrashoff

Former Commander of USS Benfold and Author of "It's ...

J.J. Abrams

Director, Producer, Writer, Author; Known for His Wo...

Melvin Adams

Former Harlem Globetrotter with a Passion for Reachi...

Kirk Acevedo

Actor Best Known for His Roles on "Dexter," "Band of...

Jose Antonio Abreu

Founder of El Sistema, Which Helps Venezuelan Childr...

Carol Adelman

Carol Adelman is a senior fellow and director of Hud...

Newton Aduaka

Newton Aduaka's award-winning Ezra, told through the...

Janus Adams

Award-Winning Journalist

Jenoyne Adams

African-American Novelist.

Khandi Alexander

Khandi Alexander (born September 4, 1957) is an Amer...

Shaun Alexander

NFL Great

Laila Ali

Undefeated 4 Time World Champion Boxer 24-0 with 21 ...

Alan Alda

Actor, Writer, Science Advocate, and Director

Adewale Akinnuoye-Agbaje

Fashion Model & Actor Known for "Lost," "Oz" & "Suic...

Jane Alexander

Actress and Former Director of the National Endowmen...

Bruce Aitken

Bruce Aitken was born in Invercargill New Zealand wh...

Gary Aldrich

On Independence Day, 1996, former FBI Agent Gary Ald...

Marilyn Albert

Dr. Marilyn Albert received her PD degree in Physiol...
More like Luther