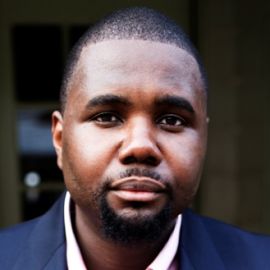 The name MAKMAN was created by combining the initials of Maurice A Kinsey's birth name with the term, man due to taking responsibility and control of his own destiny as a man.
MAKMAN is originally from Savannah, Georgia and has served 10 honorable years of active duty service in the U.S. Army. He has gained a lot of experience while living in Europe, South Korea, Japan, Arizona, Georgia, DC, Maryland and Virginia. After serving 10 honorable years of active duty service, he continued his success by becoming a senior network engineer, providing information technology solutions for the Department of Defense.
MAKMAN is the founder and creator of THE MAKMAN MOVEMENT. This includes: MAKMAN Motivation, Music and Mentoring iBelieve iAchieve and Team Failure Is Not An Option (Facebook page)
MAKMAN is an empowering community leader, dynamic motivational speaker, published coauthor of the book, "Playing the Cards of Life" and upcoming book, "S_UCCESS IS MISSING U" and self-driven entrepreneur.
---
http://www.MAKMANONLINE.net
http://www.twitter.com/MAK912
http://www.facebook.com/MAK912
http://www.youtube.com/MAKMANMUSIC
http://www.facebook.com/TeamFailureIsNotAnOption
Related Speakers View all
---
Grant D. Fairley

Keynote Speaker, Group Facilitator, Seminar & Worksh...

Eric Gnezda

Humorist, songwriter and inspirational speaker. Crea...

Michael McCain

Awakening Millions To Their Potential -Author, Coach...

Adora Svitak

Writer, Speaker, Education Advocate, and Child Prodigy

Tina Marie Jones

Connecting with the audience through the style of a ...

James Munton

Author/Deception Expert/Identity Theft Speaker

Nancy Stolfo-Corti
Matthew Evans
LisaVanAllen

The Biz Doctor with prescriptions for your success!

Jean Bailey Robor

Jean Bailey Robor, award-winning author and inspirat...

Jesse Miller

Topics focus on Social Media Awareness & Education, ...

Tonia Renee Lee

Tonia Renee Lee is a professional speaker, minister,...

David Hyner

Professional Speaker, "The Massive Goal Principle"

Christi Tasker

Social Media Branding Queen and Keynote Speaker

Devin Hughes

Devin C. Hughes-The Chief Inspiration Officer

James Festini
Alan Berg

A leader in the field of marketing to brides for loc...

Andy Mouncey

Ultra-distance Athlete, Author, Goal-Setting Expert

Adam Leotta

You don't need to be famous to be a great speaker

Peter Frampton

Following his Grammy Award-winning instrumental albu...
More like Mak