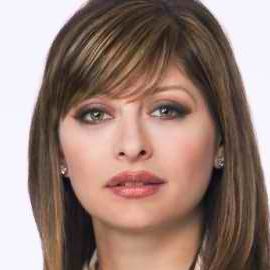 Maria Bartiromo
Financial Journalist on Fox Business News; Former Anchor of CNBC's "Closing Bell with Maria Bartiromo"
Maria Bartiromo is the anchor of CNBC's "Closing Bell with Maria Bartiromo" (M-F, 3-5 p.m. ET), and host and managing editor of the nationally syndicated "The Wall Street Journal Report with Maria Bartiromo," which was also recently rated the most watched financial news program in America.
"The Wall Street Journal Report with Maria Bartiromo" is a nationally syndicated business, financial and economic news program, distributed by NBC Universal Domestic Television Distribution. The half-hour weekly newscast appears on over 200 stations each week and provides the clarity, depth and insight of The Wall Street Journal in a television magazine format.
Bartiromo also writes a monthly Q&A column "One-on-One with Maria Bartiromo," for the Nationally Syndicated newspaper USA Today. The column features interviews with business and government leaders focusing on top business issues of the day.
In 1995, Bartiromo became the first journalist to report live from the floor of the New York Stock Exchange on a daily basis where she covered breaking news for the network's unscripted and fast-paced business morning program, "Squawk Box."
Bartiromo joined CNBC in 1993 after five years as a producer and assignment editor with CNN Business News. She has anchored the television coverage of New York City's world famous Columbus Day Parade since 1995. In 2004, Bartiromo was honored with The Union League of Philadelphia's prestigious Lincoln Statue Award, for significant contributions to the United States of America. In 1996, Bartiromo was nominated for a CableACE Award for her three-part series on the Internet and its implications for investors. In 1997, she received the Coalition of Italo-American Associations' Excellence in Broadcast Journalism Award. In 2002, Bartiromo was nominated for a Gerald Loeb Award for Distinguished Business and Financial Journalism for her piece on the widows of September 11. In May 2008, Bartiromo received a Gracie Award in the category of Outstanding Documentary for her documentary "Greenspan: Power, Money & the American Dream." She was also awarded a News and Documentary Emmy in 2008 for her "Bailout Talks Collapse" coverage and a second News and Documentary Emmy in 2009 for her report on "Inside the Mind of Google." In December 2009, Bartiromo was featured in the Financial Times as one of the "50 Faces that Shaped the Decade." She will be inducted into the Cable Hall of Fame Class of 2011, acknowledging her dedication to and impact on the cable industry.
She has written a weekly column for BusinessWeek and Milano Finanza, as well as monthly columns for Individual Investor, Ticker and Reader's Digest magazines, and she has been published in the Financial Times, Newsweek, Town and Country, Registered Rep and the New York Post. HarperCollins published her book, "Use the News: How to Separate the Noise from the Investment Nuggets and Make Money in Any Economy" in June 2001. The book was on the bestseller lists of The New York Times, The Wall Street Journal and USA Today. Bartiromo's second book, "The 10 Laws of Enduring Success" was released by Crown Business, a division of Random House, Inc., in late March 2010. Her latest book, "The Weekend That Changed Wall Street" was released by Portfolio / Penguin in early September 2010.
In addition to being a member of the Board of Trustees of New York University, Bartiromo is on the Board of Directors of the New York City Ballet, the Girl Scout Council of Greater New York; as well as PENCIL, Public Education Needs Civic Involvement and Leadership, which is a non-profit group focusing on improving New York high schools. She is a Young Global Leader of the World Economic Forum. She is also a member of The Council on Foreign Relations, The Economic Club of New York, and the Board of Governors of the Columbus Citizens Foundation.
Bartiromo graduated from New York University, where she majored in journalism and minored in economics.
Click Here to register and get pricing on booking Maria Bartiromo for your next event!
Videos
---
Get notified of new talks and events.
Follow
Related Speakers View all
---
Arianna Huffington

Former President & Editor-in-Chief of The Huffington...

Nouriel Roubini

World Renowned Economist

Thomas Friedman

Three-Time Pulitzer Prize Winning Commentator, New Y...

David M. Rubenstein

Managing Director, The Carlyle Group

Bob Schieffer

Former Moderator of "Face The Nation," Chief Washing...

Ronald Brownstein

Editorial Director for Strategic Partnerships, Atlan...

Mickey Edwards

Former US Congressman/Professor

Andrea Mitchell

Chief Foreign Affairs Correspondent, NBC

Hoda Kotb

Correspondent, 'Dateline NBC' and Co-Anchor, 'The To...

Niall Ferguson

British-American Historian; Laurence A. Tisch Profes...

Gillian Tett

Columnist, Financial Times

Anne-Marie Slaughter

CEO New America Foundation; Foreign Policy Expert; F...

Katty Kay

Anchor, BBC World News America & Co-author, Womenomi...

Howard Gardner

Renowned Developmental & Cognitive Psychologist; Fat...

Katie Couric

Award-winning Journalist, Best-selling Author, & Co-...

Ben Stein

Political Economist; Author and Actor; Cult Icon

Barbara Corcoran

Real Estate Entrepreneur and Mogul, Angel Investor, ...

Ian Bremmer

President and Founder of Eurasia Group

David Brooks

Op-Ed Columnist, The New York Times; Author of NY Ti...

Andrew McAfee

Associate Director and Principal Research Scientist,...
More like Maria