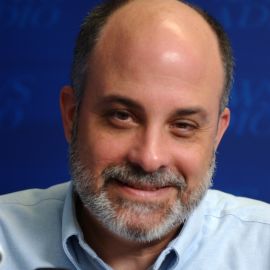 Mark Levin has become one of the hottest properties in Talk radio, his top-rated show on WABC New York is now syndicated nationally by Cumulus Media. Mark's radio show on WABC in New York City skyrocketed to Number 1 on the AM dial in his first 18 months on the air in the competitive 6:00 PM - 8:00 PM time slot. In a short period of time, Mark has become one of the most listened to local radio Talk show hosts in the nation.
Mark Levin took over the WABC 6:00 PM slot on September 2, 2003. Before that, he hosted a popular Sunday afternoon program. "He's smart, witty, and fast on the draw," according to WABC Program Director Phil Boyce. "He has this sharp sarcastic wit that can easily stun his opponents. I know I would not want to debate him." Mark's show follows the ever popular Rush Limbaugh and Sean Hannity on WABC, but everyday he manages to come up with a new twist on the day's top news events, as well as his own unique information. His passion and intellect have made him a favorite of tens of thousands of radio listeners in the New York City area.
Mark has been a frequent guest and substitute host on The Sean Hannity Show, and has also been an advisor to Limbaugh, who frequently refers to him on the air with the nickname "F. Lee Levin." He is perhaps more well-known for his nickname, "The Great One," coined by his friend Hannity.
Mark is the author of several New York Times bestselling books including Men in Black (2007), Liberty and Tyranny (2010), Ameritopia (2012) and The Liberty Amendments (2013). Additionally, he is one of America's preeminent conservative commentators and constitutional lawyers. He is in great demand as a political and legal commentator, and has appeared on hundreds of television and radio programs. Levin is also a contributing editor for National Review Online, and writes frequently for other publications. Levin has served as a top advisor to several members of President Ronald Reagan's Cabinet - including as Chief of Staff to the Attorney General of the United States. In 2001, the American Conservative Union named Levin the recipient of the prestigious Ronald Reagan Award. Mark released "Rediscovering Americanism: And the Tyranny of Progressivism" in 2017.
He currently practices law in the private sector, heading up the prestigious Landmark Legal Foundation in Washington DC.
Links
---
Related Speakers View all
---
Laura Ingraham

Political Commentator, Radio Show Host & Journalist

Sean Hannity

"The Sean Hannity Show" on iHeartRadio, Fox News Cha...

Rush Limbaugh

Host of "The Rush Limbaugh Show"

Erick Erickson

Editor of "The Resurgent," Co-Author of "Redstate Up...

Mark Steyn

Author and Commentator, Leading Canadian Human Right...

Bill O'Reilly

Host of "The O'Reilly Factor," Bestselling Author, a...

Mary Matalin

Celebrated Conservative Voice and Former Presidentia...

Judge Andrew P. Napolitano

FOX News Senior Judicial Analyst and New Jersey Supe...

David Gergen

Senior Political Analyst, CNN

Michelle Malkin

Award Winning Conservative Columnist, Best-Selling A...

Tara Wall

Award-Winning Journalist and Political Commentator

Glenn Beck

Host of "The Glenn Beck Program," Political Commenta...

Michael Savage

Multimedia Icon in the Conservative Movement

Ann Coulter

Bestselling Author and Political Commentator

Donna Brazile

Veteran Democratic Political Strategist, Adjunct Pro...

Congressman Allen West

Distinguished Conservative Thought Leader; Highly De...

Rand Paul

2016 Republican Presidential Candidate, Senator for ...

P. J. O'Rourke

Leading Political Satirist & Best-Selling Author of ...

Sarah Palin

Former Governor of Alaska; 2008 Vice Presidential No...

Newt Gingrich

Gingrich Productions; Former Speaker of the House of...
More like Mark