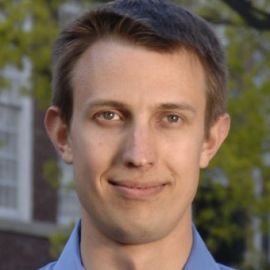 Mark Orlowski is a contributor to Marketplace.org and the Marketplace Morning Report. His day job as founder and executive director of the nonprofit Sustainable Endowments Institute has taken him to 35 U.S. states since 2005. He loves to travel and avidly collected and redeemed frequent flyer miles and hotel points since the late 1990s. Mark earned his private pilot license in 2002 and is deeply disappointed he can't earn miles when piloting a plane.
The Sustainable Endowments Institute (SEI) has pioneered research, education and outreach to advance resilient institutional responses to the climate crisis.
Mark heads the Institute's research efforts on college sustainability initiatives including creation of the College Sustainability Report Card. Mark also serves as the lead developer and coordinator of the Billion Dollar Green Challenge, an initiative that is encouraging colleges and other nonprofit institutions to invest a combined total of $1 billion into energy efficiency upgrades.
Since the Institute's founding as a special project of Rockefeller Philanthropy Advisors in 2005, Mark has spoken at more than 80 colleges in over 30 states. Along with widespread coverage by campus newspapers, numerous reports on his work have appeared in the national and business press. Media coverage includes articles in CNN Money, Forbes, The New York Times and a profile in BusinessWeek.
As a member of the board of managers overseeing investments for New England Quaker Meetings, Mr. Orlowski is familiar with fiduciary responsibilities of endowment trustees. He also serves on the board of Proxy Democracy, a nonprofit organization dedicated to providing accessible proxy information.
A graduate of Williams College, Mr. Orlowski served on the college's Advisory Committee on Shareholder Responsibility and chaired its Campus Environmental Advisory Committee. He also received an associate's degree from Berkshire Community College and earned a master's degree at Harvard University, where he studied nonprofit management.
Click Here to register and get pricing on booking Mark Orlowski for your next event!
Get notified of new talks and events.
Follow
Related Speakers View all
---
Mel H. Abraham

He has a riveting presence, created by his absolute ...

Milt Abel

Milt Abel is a corporate-clean stand-up comedian tha...

Mike Abrashoff

Former Commander of USS Benfold and Author of "It's ...

J.J. Abrams

Director, Producer, Writer, Author; Known for His Wo...

Melvin Adams

Former Harlem Globetrotter with a Passion for Reachi...

Kirk Acevedo

Actor Best Known for His Roles on "Dexter," "Band of...

Jose Antonio Abreu

Founder of El Sistema, Which Helps Venezuelan Childr...

Carol Adelman

Carol Adelman is a senior fellow and director of Hud...

Newton Aduaka

Newton Aduaka's award-winning Ezra, told through the...

Janus Adams

Award-Winning Journalist

Jenoyne Adams

African-American Novelist.

Khandi Alexander

Khandi Alexander (born September 4, 1957) is an Amer...

Shaun Alexander

NFL Great

Laila Ali

Undefeated 4 Time World Champion Boxer 24-0 with 21 ...

Alan Alda

Actor, Writer, Science Advocate, and Director

Adewale Akinnuoye-Agbaje

Fashion Model & Actor Known for "Lost," "Oz" & "Suic...

Jane Alexander

Actress and Former Director of the National Endowmen...

Bruce Aitken

Bruce Aitken was born in Invercargill New Zealand wh...

Gary Aldrich

On Independence Day, 1996, former FBI Agent Gary Ald...

Marilyn Albert

Dr. Marilyn Albert received her PD degree in Physiol...
More like Mark