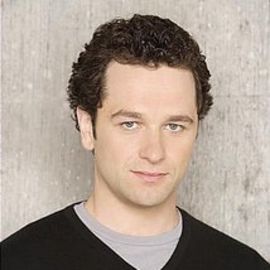 Born 8 November 1974 in the historic city of Cardiff, South Glamorgan, South Wales. Father Glyn Evans (headmaster), mother Helen Evans (teaches special needs children) and an older sister Rachel Evans, who is a BBC broadcast journalist . His parents were strict when necessary, but also gave him free rein to live his life. He would not call himself a bad child, but did the 'typical setting fire to my mum's carpet'. He looks back at his childhood affectionately 'through the old rose-tinted spectacles'.
He was educated in the Welsh language at Ysgol Gynradd Gymraeg Melin Gruffydd, Whitchurch, Cardiff where he met Ioan Gruffudd.
Considering that his father's family were farmers, his mother's people lived near the sea, it is only natural that he wanted to be a farmer. "Don't ask me why. I thought maybe I'd be a farmer. That was another silly notion. I think I'd last about five minutes, being a farmer."
But when he was 10 or 11 years old, he saw the movie that inspired him: 'Look back in anger' with Richard Burton. His father told him Richard Burton was Welsh "…and I realized it was possible to be Welsh and make it in the filmworld." He than transferred to a Welsh-speaking co-ed comprehensive Ysgol Gyfun Gymraeg Glantaf where Ioan also went to.
Click Here to register and get pricing on booking Matthew Rhys for your next event!
Videos
---
Get notified of new talks and events.
Follow
Related Speakers View all
---
Mel H. Abraham

He has a riveting presence, created by his absolute ...

Milt Abel

Milt Abel is a corporate-clean stand-up comedian tha...

Mike Abrashoff

Former Commander of USS Benfold and Author of "It's ...

J.J. Abrams

Director, Producer, Writer, Author; Known for His Wo...

Melvin Adams

Former Harlem Globetrotter with a Passion for Reachi...

Kirk Acevedo

Actor Best Known for His Roles on "Dexter," "Band of...

Jose Antonio Abreu

Founder of El Sistema, Which Helps Venezuelan Childr...

Carol Adelman

Carol Adelman is a senior fellow and director of Hud...

Newton Aduaka

Newton Aduaka's award-winning Ezra, told through the...

Janus Adams

Award-Winning Journalist

Jenoyne Adams

African-American Novelist.

Khandi Alexander

Khandi Alexander (born September 4, 1957) is an Amer...

Shaun Alexander

NFL Great

Laila Ali

Undefeated 4 Time World Champion Boxer 24-0 with 21 ...

Alan Alda

Actor, Writer, Science Advocate, and Director

Adewale Akinnuoye-Agbaje

Fashion Model & Actor Known for "Lost," "Oz" & "Suic...

Jane Alexander

Actress and Former Director of the National Endowmen...

Bruce Aitken

Bruce Aitken was born in Invercargill New Zealand wh...

Gary Aldrich

On Independence Day, 1996, former FBI Agent Gary Ald...

Marilyn Albert

Dr. Marilyn Albert received her PD degree in Physiol...
More like Matthew