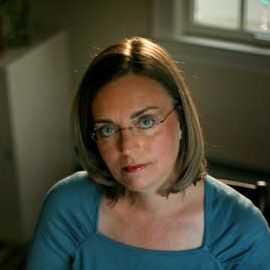 Maureen Taylor is an internationally known expert on photo identification who works with individuals to solve their picture mysteries and reveal the stories present in their photographs. Her expertise bridges the disciplines of genealogy, art history, costume history and cultural anthropology. She travels extensively giving presentations on photo identification, photo preservation, and family history. She has been featured in The Wall Street Journal and on NBCs Today Show, ABCs The View, and NPR.
Click Here to register and get pricing on booking Maureen Taylor for your next event!
Reviews
---
Rhode Island Public Library, 2010

I have heard Maureen Taylor speak several times. She is the international expert on identifying old photographs. Her genealogy and research skills are just as sharp so she is able to pull it all together to convey the importance of each aspect in her talks. She is a speaker not to be missed.

Marian Pierre-Louis
Wellington, Kansas - Kansas Council of Genealogical Societies

I enjoyed your talk because you made it very interesting while sharing an enormous amount of valuable information. It still surprises me what I notice now in photographs that I didn't notice before!

Have signed up for the upcoming webinar!

Sherry Kline

· Family Tree Writer
NGS Meeting in Kansas City

Very interesting presentation with visual examples of hair styles, clothing and jewelry to date photographs of ancestors. She also covered the evolution of photograph technology.

Robert Pulse

· DB&P Consulting
Association of Personal Historians 2010 Conference, Valley Forge, PA

Subject matter was fascinating and it was presented in a way that made me want to find out more about mining old photos for new information. You truly engaged the whole audience.

D. Fran Morley
Assoc of Personal Historians 2010 Conference, Valley Forge, PA

The subject was fascinating and well presented and your talk made me curious to find out more about mining old photos for new information.

D. Fran Morley
Jamboree & NGS

Every time I've heard Maureen speak, she's been charming, well prepared and full of useful, interesting information. Her down to earth delivery and approachability make her a star on any program!

Connie Moretti
SCGS Jamboree 2010, Burbank, California

I had the pleasure of hearing Maureen present two talks at this conference. The first one was "Identifying and Dating Family Photographs" and the second "Hairsteria: Hair in the Family".

Knowledgeable, organized and articulate, Maureen captivated her audience with photographic history and the typical questions one would ask when identifying a photo whether by clothing, hairstyle or other means. I very much enjoyed her talks. The sessions were well attended and the audience appreciative.

Joan Miller

· Luxegen Genealogy
National Conferences

Maureen covers her topics in a thorough manner. She maintains an entertaining tone while provided detailed information and resources. I also appreciate her experience with her topic; he presentations are always full of credible information

J Mark Lowe

· Ky-Tn Research Associates
Providence RI

The information given on old photographs has helped me to look at them in a new way.

Patti Worthington
Get notified of new talks and events.
Follow
Related Speakers View all
---
Travis Keller

Travis Keller is an American music journalist, photo...

Camille Seaman

TED Fellow Camille Seaman photographs big ice.

Paul Alexander

Paul Anderson is a worldwide famous photographer, so...

Max Roper

Max Roper is a photographer to musicians like Kanye ...

Barry Shainbaum

Professional speaker, author, photographer and broad...

Chris Jordan

World-renowned Photographer and Environmental Activist

Jose Galvez

Hispanic Pulitzer-Prize Award Winning Photographer

Michael Adams

Leading Market Researcher.

Karim Rashid

Renowned Cultural & Industrial Designer, Creativity ...

Rick Smolan

Photographer & Big Data Expert

Aaron Johnson

Creator of everyone's favorite photo-centric comic s...

Nicka Smith

genealogy. photography. and all the stuff in between.

Robin Hammond

Documentary Photographer& Human Rights Activist

Jason Reeves

Jason Reeves is an American singer-songwriter and mu...

Sebastião Salgado

Sebastião Salgado captures the dignity of the dispos...

Aris Venetikidis

Aris Venetikidis is a graphic designer with a passio...

Chase Jarvis

Award-Winning Photographer & Director; Fine Artist; ...

Beardyman

Musician and Beatboxer; "King of Sound and Ruler of ...

Sebastian Copeland

Photographer, Extreme Athlete, and Environmental Act...

Henry Diltz

Rock and Roll Photographer
More like Maureen