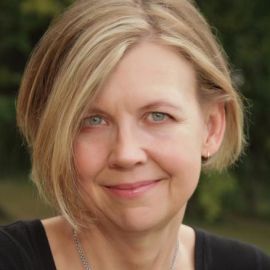 Melissa DeCarlo was born and raised in Oklahoma City. Growing up she wanted to be a writer, an artist, and actress, and one of those people wearing bright yellow helmets who get to climb telephone poles. Then one day she looked around and discovered that she was all grown-up with a degree in computer science and working in an office where she had to wear panty hose every day.
"The Art of Crash Landing" tells the story of Mattie Wallace. Broke and knocked up, she's got all her worldly possessions crammed into six giant trash bags, and nowhere to go. Try as she might, Mattie can no longer deny that she really is turning into her mother, a broken alcoholic who never met a bad choice she didn't make. When Mattie gets news of a possible inheritance left by a grandmother she's never met, she jumps at this one last chance to turn things around. Leaving the Florida Panhandle, she drives 800 miles to her mother's birthplace -- the tiny town of Gandy, Oklahoma. There, she soon learns that her mother remains a local mystery -- a happy, talented teenager who inexplicably skipped town thirty-five years ago with nothing but the clothes on her back. But the girl they describe bears little resemblance to the damaged woman Mattie knew, and before long it becomes clear that something terrible happened to her mother, and it happened here. The harder Mattie digs for answers, the more obstacles she encounters. Giving up, however, isn't an option. Uncovering what started her mother's downward spiral might be the only way to stop her own.
Sometimes in life, as in the best stories, do-overs are possible. DeCarlo now lives in East Texas with her husband and a motley crew of rescue animals. She learned how to paint and sculpt and has worked as a freelance writer, grant writer and graphic designer. She's even done a little acting in community theater.
A few of DeCarlo's favorite things are: reading, writing, making art, hanging out with her husband and their awesome grown-up kids, and watching that YouTube video of the goat that sings like Usher. "The Art of Crash Landing" is her first novel, but some of her short fiction and essays have appeared in print and online literary magazines.
After she managed to break her foot climbing a flight of stairs, she decided that climbing telephone poles was probably a bad idea. She no longer even owns a pair of panty hose.
Speech Topics
---
What Studying Visual Art Taught Me About Writing
Reading About Writing: A Discussion of Some of My Favorite Writing How-To-Books
She Loves Me, She Loves Me Not: The Joys and Pitfalls of Unreliable and Occasionally Unlikable Narrators
Singing in the Lifeboats: Writing the Funny-Serious Story
Confessions of a Late Bloomer: Being a Debut Novelist at Fifty-Something
Truth In Fiction: Do We Write What We Know, or Who We Are?
Story Structure: How Scenes Are Like Legos Except It Hurts Less If You Step On One
Links
---
Books
---
Related Speakers View all
---
Genevieve Valentine

Science Fiction and Fantasy Writer

Karma Brown

Author of "Come Away with Me"

Heidi Ferrer

Screenwriter and Founder/CEO of GirltoMom.com

Monica Byrne

Author and playwright

Lois Lowry

Newbery Medal-Winning Author of "Number the Stars" a...

Naomi Novik

Author of the New York Times Bestselling and Critica...

Kate Walbert

Novelist and Bestselling Author of "A Short History ...

Susanna Clarke

Author of Award-Winning Book, "Jonathan Strange & Mr...

Laini Taylor

American Young-Adult Fantasy Author, Best Known for ...

Alice McDermott

Celebrated Author, Pulitzer Prize Finalist, Professo...

Molly Antopol

Acclaimed Fiction Writer, 5 Under 35 Honoree

Anne Calcagno

Author, Professor in MFA Program at School of the Ar...

Anthony Horowitz

English Novelist and Screenwriter in Mystery and Sus...

Paula Hawkins

Author of "The Girl on the Train"

Bernard Cooper

Award-winning Memoirist, Novelist, and Short Story W...

Dennis Lehane

Award-Winning, New York Times Best-Selling Thriller ...

Sherman Alexie

Poet, Short Story Writer, Novelist, and Performer

Ian McEwan

English Novelist and Screenwriter

Anna Holmes

Founder and Editor of Online Women's Magazine, Jezeb...

Yann Martel

Novelist, Author of "Life of Pi"
More like Melissa