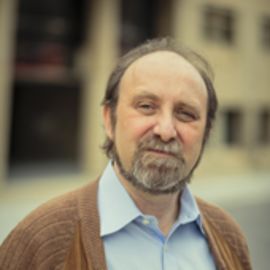 At the Nicolelis Laboratory at Duke University, Miguel Nicolelis is best known for pioneering studies in neuronal population coding, Brain Machine Interfaces (BMI) and neuroprosthetics in human patients and non-human primates.His lab's work was seen, famously though a bit too briefly, when a brain-controlled exoskeleton from his lab helped Juliano Pinto, a paraplegic man, kick the first ball at the 2014 World Cup.
But his lab is thinking even bigger. They've developed an integrative approach to studying neurological disorders, including Parkinsons disease and epilepsy. The approach, they hope, will allow the integration of molecular, cellular, systems and behavioral data in the same animal, producing a more complete understanding of the nature of the neurophysiological alterations associated with these disorders. He's the author of the book Beyond Boundaries.
Click Here to register and get pricing on booking Miguel Nicolelis for your next event!
Videos
---
Speech Topics
---
How Connecting Brains with Machines Will Change Our Lives
Get notified of new talks and events.
Follow
Related Speakers View all
---
Dr. Michio Kaku

World-Renowned Theoretical Physicist

Mayim Bialik

Neuroscientist & Star of "The Big Bang Theory"

Raj Patel

Controversial Author, Journalist, Professor and Food...

Dr. John Medina

Brain Scientist

Peter Diamandis

Thought-leader & Founder and Chair of the X Prize Fo...

Ray Kurzweil

Chairman, Kurzweil Technologies & A Director of Engi...

Bill Nye

AKA Bill Nye the Science Guy; Science Communicator, ...

John Zogby

Trendspotter & Leading Pollster

Graham Hill

Founder, Life Edited

Riley Crane

Collective Social Behavior Scientist

A.J. Jacobs

Best-Selling Author & "Human Guinea Pig"

Steven Squyres

Scientific Investigator, NASA

Ben Goldacre

British Physician and Academic and Science Writer

Jeff Taylor

Founder of Monster.com & Eons.com

Anousheh Ansari

Iranian-American Engineer and Co-founder and Chairwo...

James Canton

Business and Technology Futurist and Author, "The Ex...

Kevin Colleran

Wall Street Journal Columnist & Former Facebook Exec...

Gary Shteyngart

Award-Winning Author

Sarah Lacy

Founder, Editor-in-Chief & CEO, PandoMedia

Chris Hughes

Co-founder, Facebook and Editor-in-Chief and Publish...
More like Miguel