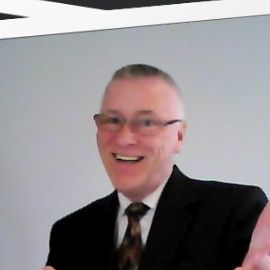 MIKE BOWLER, SR. has been in the real estate business (Lansing, MI) for the past 33 years. During that time hes educated and consulted hundreds of REALTORS. Mike is a former owner; broker of Coldwell Banker Bowler Real Estate and is currently an Associate Broker for Coldwell Banker Hubbell Briarwood in Lansing Michigan, who bought his company in 2001. He also owns his own company PRETEC (Professional Resources, E-Business, Technology, Education, & Consulting) and is also a an avid fan of social media in the workplace, Mike was named in 2009s Top 25 Most Connected Real Estate Professionals by PROXIO and selected by Inman News as one of the 50 Most Influential Online agents.
Click Here to register and get pricing on booking Mike Bowler Sr. for your next event!
Reviews
---
Greater Lansing Association of Realtors REBar Camp

Mike is one of the top Tech Guru's in the Real Estate Industry Nation wide. He is able to put the technology into real life real estate transactions. His hands on approach to the business allows him to translate his knowledge to his fellow agents, at their level. He knows the real estate business, and he knows how to use the technology to sell real estate.

Terry Frewen

· Coldwell Banker Frewen Realty
I heard you speak at the Greater Lansing Association of Realtors in March of 2011...

Mike is very informative and full of knowledge!

Travis Conti

· CBHB
NOCBOR Training

There are not many trainers who are able to listen AND speak. Your casual style put the room at ease, your technology knowledge was excellent and you were able to keep the attendees involved and engaged through your listening and insight.

Pat Williams

· CyberCletch LLC
Mike interviewed me for his radio show

Here are my 3 secrets to staying on top of Real Estate Industry, Social Media and technology trends: 1) "Like" Mike Bowler on Facebook. 2) Follow Mike Bowler's Tweets. 3) Subscribe to Mike Bowler's RSS feed! Mike is one of the leaders that is raising the bar for Realtors everywhere. Thanks for all you do, Mike!

Steve Rosenbaum

· http://SteveRosenbaum.com
Greater Lansing Association of Realtors

Mike made our continuing education session fun and interesting with a great social media presentation. The time flew by and the information was so relevant to today's business environment. Thanks, Mike!

Brian Huggler

· Coldwell Banker Hubbell BriarWood
A lot of places, a lot of times

Mike - you never fail to amaze me with your knowledge of and commitment to our industry. The way you have embraced technology is inspirational - you are a true professional and I am proud to have you as a colleague and friend.

Cathy Hoppough

· Coldwell Banker Weir Manuel Hoppough
Real Estate BarCamp 2011

It is not often that you find a baby boomer that is as comfortable and proficient with technology and social media as a Gen Y. Mike is, and that's remarkable! More impressive is his willingness to teach anyone in real estate how he uses it. Well done, Mike!

Stefan Swanepoel

· RealSure, Inc.
reGLARCamp

I enjoyed the energy Mike put into this event. Full of information while assisting the speakers and attendees. It was an honor to be part of a function Mike Bowler Sr. put together... Marketing to Event, Mike was on top of it all!

Angela Ridley
His Web Show & Various Places

Mike has a great attitude, smile and demeanor. He is engaging, insightful and his credibility is strong enough to hold the audience. He commands respect from the audience and give the audience respect as well.

I was also honored to be interviewed by Mike, one of my favorites, he is very well prepared and a true professional.

Maya Paveza

· The Hip Roof/maya paveza, inc.
April 13, 2011 RE Bar Camp

Mike put together a great day of educating on a variety of tech topics. Was able to take the info I learned that day and put many things into practice quickly due to the open format he uses. Thanks Mike!

Kim Laforet

· Coldwell Banker Hubbell BriarWood
Lansing, MI

Mike's knowledge of the real estate profession is second to none. It's always refreshing to work with him, as doing things "the right way" is foremost in his mind. Mike and I have had occasion to work together on various projects and I've always been impressed by his ability to work through issues and determine the best course of action. I wouldn't hesitate to reccomend Mike to any of my clients.

Jeff Hicks

· Hicks & Mullett, PLLC
VirtualRealEstateBarCamp

Mike knows his stuff. His command and delivery had the audience captivated for the entirety of his session at our conference. We hope to have him back for our next event.

James

· Cronin
Virtual Barcamp 3 April 2010

Mike grasps clearly the need to embrace changing ways to communicate while understanding the need to provide the education needed for those who also want to embrace the change and make it a part of their daily lives.

Moreover Mike is a clear communicator. He is well prepared and concerned about delivering accurate information.

Ken Cook
Coldwell Banker Annual Conference

Mike really opened my eyes to how technology and social networking could enhance and improve my real estate practice.

I had no idea of how technology could make me so much money!

Michael Scholtz

· RE/MAX Platinum
Get notified of new talks and events.
Follow
Related Speakers View all
---
Jay Handler

Speaker, Radio Host & Author of "The 8 M's of Market...

David Nour

Social Networking Strategist

Nicholas de Wolff

Startup Advisor, Executive Leader, Business Strategy...

Sanjay Dalal, chief innovator

Innovation Author, Speaker, CEO of Ogoing Social Net...

LisaVanAllen

The Biz Doctor with prescriptions for your success!

Jon Acuff

Lead Pastor, Christian Speaker; New York Times Bests...

Kristen Hagopian

Personal Finance Author, Popular Columnist, Consumer...

William H Wells III

Internet Marketing Strategist and Speaker/Presenter....

Pam Moore

CEO & Founder Marketing Nutz, Social Business Strate...

Ken Cook

As a constant entrepreneur Ken has shared the experi...

Karen Clark

Effective, Ethical and Empowering Online Presence Tr...

Susan Sweeney

CSP HoF Internet Marketing Speaker, Best Selling Aut...

Jill Salzman

Author of "Found It," Dynamic Speaker, and I'll Help...

Crystal Washington

Crystal is a social media expert, marketing consulta...

Jim Carroll

One of the World's Leading Global Futurists, Trends ...

Gillian Muessig

Thought Leader in Global Entrepreneurship

Ford Saeks

Business Growth & Internet Marketing Specialist

Joe Soto

Social Media Marketing Strategist | CEO at One Socia...

Tyler Willis

4+ years helping companies cope with how emerging me...

Candace Reese

The CEO Pundit: Empowerment Speaker, Inspirational C...
More like Mike