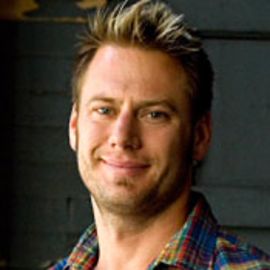 Mike North, PhD
Science and Engineering Expert; CEO/Founder ReAllocate, Inc., Innovator and Master of "Nano"
Dr. North is involved in all aspects of our technological charge from inventing new materials and technologies in a cleanroom, to creating cutting edge prototypes on Discovery Channel's Prototype This! Brimming with enthusiasm, Mike's engaging personality makes him an energetic and charismatic science and technology advocate inspiring grade-schoolers to CEOs.
A master of the "nano" world Mike earned a Ph.D. and Masters in Materials Science and Engineering, as well as graduating summa cum laude in Mechanical Engineering, from U.C. Santa Barbara. During his graduate work, he designed and fabricated the world's first adhesive that can be turned on and off electronically. It was inspired by biological adhesives systems, such as the one used by geckos. Mike's scientific interests delve into specialties such as biomimetics, micro/nanofabrication, nanoscale microscopy and micro/nanomechanical characterization. His investigations in these areas have been published in leading scientific journals, including Advanced Materials and Nature.
On the nano-artistic side, Mike uses cutting-edge nanofabrication techniques to create innovative micro- and nano-sculptures. Expanding on techniques used to make computer chips, he photolithographically patterns surfaces, carves out material using biased plasmas, deposits other materials such as titanium or platinum, and even grows nanostructures using a self-developed cleanroom technique. The entire final structure ends up being smaller than the width of a human hair (and Mike concedes that it probably requires a Ph.D. to understand what all this means!). Mike also has a knack for building large-scale avant-garde art, such as fire-breathing 90-mph dragon ships or classic BMWs loaded with computer-controlled fire-blasting cannons.
Dr. North's unique mix of engineering and artistic skills combined with his charismatic personality led him to masterminding builds on Discovery Channel's Prototype This! Responsible for co-developing the concept of the show and developing concepts for new inventions, Mike would then lead teams of crack inventors, builders and engineers to create never before seen spectacles of engineering. To accomplish these projects at breakneck speeds Mike pulls from all areas of science, technology and manufacturing. The inventions range from 6 legged all terrain vehicles to 30 foot tall waterslide simulators to lifesaving fire fighting equipment.
Mike brought innovation to the toy industry as the Chief Technology Officer at Nukotoys, a company that is redefining the toy category by blurring the line between online and offline.
ReAllocate is the project Mike is most passionate about. As Founder Mike is uniting the engineering and design communities to provide design and engineering support to those at the base of the economic pyramid. "By ReAllocating just a little bit of our expertise and time we are able to have a huge impact on the lives of those that need it most," said North during his keynote at the recent Global Humanitarian Technology Conference.
Mike commonly speaks on the status and future of science and technology, and is a stand out motivational speaker. He is involved in several start-ups, educational programs, ongoing research, and is an advisor to multiple companies.
Click Here to register and get pricing on booking Mike North, PhD for your next event!
Videos
--- Get notified of new talks and events.
Follow
Related Speakers View all
---
Jim McKelvey

Co-Founder of Square, Engineer and Entrepreneur; Fou...

Dom Sagolla

Co-Creator of Twitter; Author, "140 Characters"

Ben Casnocha

Award-winning Entrepreneur, Author, and Executive in...

Damon Horowitz

Former In-House Philosopher and Director of Engineer...

Luke Williams

Professor of Innovation and Entrepreneurship, NYU's ...

Grant Imahara

Electronics and Radio Control Expert; Former Host on...

Milton Chen

Executive Director Emeritus of the George Lucas Educ...

Dr. Michio Kaku

World-Renowned Theoretical Physicist

Ping Fu

Vice President and Chief Entrepreneur Officer, GeoMa...

Jason Silva

Futurist and Host of National Geographic's "Brain Ga...

Josh Linkner

Founder and CEO of ePrize, a Digital Promotions Firm...

Dr. Moira Gunn

Host of NPR's 'Tech Nation'

Bill Capodagli

Author of "Innovate the Pixar Way: Business Lessons ...

Leila Janah

A Celebrated Social Entrepreneur Bridging Technology...

Daniel Kraft

Physician, Scientist and Entrepreneur

Reshma Saujani

Founder, Girls Who Code and Candidate, New York City...

Sean Gourley

Physicist, Political Advisor, TED Fellow and Expert ...

Jack Andraka

American Inventor, Scientist and Cancer Researcher, ...

Jared Cohen

President, Jigsaw (previously Google Ideas) & Chief ...

Story Musgrave, M.D.

An American physician and a retired NASA astronaut. ...
More like Mike