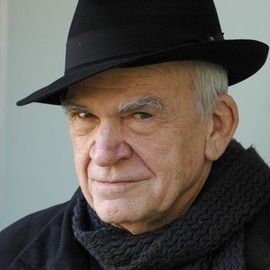 Milan Kundera
Czech Republic's Most Recognized Living Writer & One of the World's Best-Known Authors
Milan Kundera is the Czech Republic's most recognized living writer and one of the world's best-known authors. Of Czech origin, he has lived in exile in France since 1975, having become a naturalised citizen in 1981. He "sees himself as a French writer and insists his work should be studied as French literature and classified as such in book stores."
Kundera's best-known work is "The Unbearable Lightness of Being." His books were banned by the Communist regime of Czechoslovakia until the downfall of the regime in the Velvet Revolution of 1989. He lives virtually incognito and rarely speaks to the media. A perennial contender for the Nobel Prize in Literature, he has been nominated on several occasions.
Related Speakers View all
---
Haruki Murakami

Contemporary Japanese Writer; Bestselling Author

Philip Roth

Academic & Author

Alain de Botton

Swiss Writer, Philosopher & Television Presenter

Jared Diamond

Author of the Pulitzer Prize Winning "Guns, Germs an...

Niall Ferguson

British-American Historian; Laurence A. Tisch Profes...

Richard Florida

Renowned Economist and Author, The Rise of the Creat...

Thomas Friedman

Three-Time Pulitzer Prize Winning Commentator, New Y...

Francis Fukuyama

Global Affairs Thought-leader and Professor; Author ...

Murray Gell-Mann

Murray Gell-Mann started early. He entered Yale Univ...

Daniel Goleman

Internationally Recognized Psychologist & New York T...

Dr. Jane Goodall

Internationally Renowned Primatologist, Founder of t...

Al Gore

45th Vice President of the United States, Nobel Peac...

Jonathan Haidt

Psychologist, Widely Considered Expert in Psychology...

Daniel Kahneman

Eugene Higgins Professor of Psychology; Author, "Thi...

Garry Kasparov

World Champion Chess Expert and Strategist

Rem Koolhaas

Dutch Architect, Architectural Theorist, Urbanist an...

Ray Kurzweil

Chairman, Kurzweil Technologies & A Director of Engi...

Lawrence Lessig

Director, Edmond J. Safra Center for Ethics, Harvard...

Amory Lovins

Co-Founder and Chief Scientist of Rocky Mountain Ins...

Tom Peters

Speaker, Professional Agitator at Tom Peters Company...
More like Milan