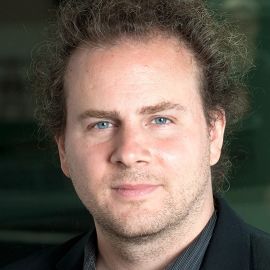 Mitchell Joachim is co-founder of Terreform ONE and an associate professor at NYU. He is a TED senior fellow and has been awarded fellowships with Safdie Architects and the Martin Society for Sustainability at MIT. Joachim was formerly an architect at Gehry Partners and Pei Cobb Freed. He co-authored the book Super Cells: Building with Biology and is the recipient of numerous design awards. He was named to Wired magazine's The Smart List: 15 People the Next President Should Listen To, Rolling Stone's 100 People Who Are Changing America, and Dwell magazine's The Now 99 in 2012.
Speech Topics
---
The Organic City: Urbanism Redefined
Mitchell Joachim inspires us to rethink our approach to urban environments by pointing to mind-bending technologies that are already transforming the way we live. When the elevator was introduced, the nature of buildings changed. The same shift occurred for cities built in response to widespread car traffic. Today, Joachim is working on the next big shift. It could be an intelligent "soft" car that networks with a city grid. It might involve grafting living cells into green residences that can reverse the last 150 years of inefficient living. Joachim envisions a future in which biology and architecture are a single discipline--and shares the ground-breaking work and disruptive ideas that will make that future a reality.
Related Speakers View all
---
Graham Hill

Founder of Life Edited & TreeHugger.com

Dan Gilbert

Psychologist; Happiness Expert

Richard Florida

Renowned Economist and Author, The Rise of the Creat...

Nader Tehrani

M.I.T. Architecture Professor

Spencer Wells

Geneticist, anthropologist, author, entrepreneur, ad...

David Pogue

Host of NOVA ScienceNow & Yahoo Tech Columnist

Clay Shirky

Expert on New Technology and Social Media, and How T...

Peter Rojas

Co-founder of Gizmodo and of Engadget

Parag Khanna

The World's Leading Geo-Strategist; Author of Second...

Sir Richard Branson

Founder of Virgin Group

Majora Carter

Urban Revitalization Strategist

Van Jones

CNN Contributor; Best-Selling Author; Human Rights, ...

Peter Thiel

Former CEO and Co-founder of PayPal; Technology Entr...

Jacques Pepin

Master French Chef, Food Columnist, Cookbook Author,...

Shirley Ann Jackson

President, Rensselaer Polytechnic Institute

Sebastian Copeland

Photographer, Extreme Athlete, and Environmental Act...

Edward O. Wilson

Scientist hailed as "the new Darwin," author and pro...

John Maeda

Design Partner, Kleiner Perkins Caufield & Byers; W...

Carlo Ratti

Architect & Engineer; Director of MIT's SENSEable Ci...

Dr. Paul Wolpe

Asa Griggs Candler Professor of Bioethics; Director,...
More like Mitchell