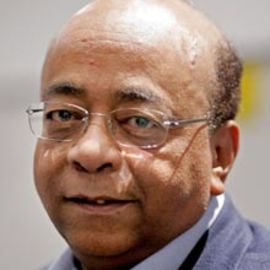 Dr. Mo Ibrahim is Chairman of Celtel International B.V. He is an acknowledged global expert in mobile communications with a distinguished academic and business career. He founded MSI (Metapath Software Inc) in 1989 after six years with Cellnet, as Technical Director. This company grew into one of the largest independent consultancy and software operations in the cellular industry with revenue of $130 million and 17 offices worldwide. Metapath was sold in June 2000 for $900m. Mo founded MSI Cellular Investments in 1998 (renamed Celtel International B.V. this year). The company operates cellular networks in 14 African countries, has more than 8.5m customers and revenues of $1b. In May 2005, the company was sold to the Kuwaiti mobile operator, MTC for $3.4b.
Mo holds a BSc in Electrical Engineering from the University of Alexandria, Egypt, an MSc in Electronics and Electrical Engineering from the University of Bradford, United Kingdom and PhD in Mobile Communications from the University of Birmingham. He is a member of the Africa Regional Advisory Board of London Business School. Mo is of Nubian (Sudanese) origin.
Click Here to register and get pricing on booking Mo Ibrahim for your next event!
Videos
---
Speech Topics
---
content
news responsibility human rights people monetary corporate governance arab
global
system cities greece mobile growth government china countries euro
portugal
india africa mobile forest technology regulation people understanding rural
companies
people information phones technology work internet android computing audience
consumption
industrial companies business markets change brands people cars customers
Get notified of new talks and events.
Follow
Related Speakers View all
---
Larry Brilliant

Pioneering Physician and Leading Public Health Exper...

Hugh Grant

Chairman President, and chief of Monsanto

Ted Turner

Media Mogul, Philanthropist

Chelsea Clinton

Daughter of Bill and Hillary Clinton; Clinton Founda...

Gary White

Executive Director & Co-Founder of Water.org with Ma...

Ray Kurzweil

Chairman, Kurzweil Technologies & A Director of Engi...

Gro Harlem Brundtland

Former Director-General, World Health Organization

Bjarke Ingels

Architect, Designer and Successful Businessman

Michael Pollan

Journalist, Activist, Professor of Journalism and Au...

Peter Diamandis

Thought-leader & Founder and Chair of the X Prize Fo...

Rt. Hon. Gordon Brown

Britiain's Former Prime Minister

Jeff Immelt

CEO of General Electric

Zain Verjee

Anchor CNN

Eric Schmidt

Executive Chairman & Former CEO, Google

Tim O'Reilly

Founder and CEO, O'Reilly Media

Sylvia Earle

Oceanographer, National Geographic Explorer-In-Resid...

Minouche Shafik

Permanent Secretary, DFID

Lalit Modi

Founder Indian Premier League Cricket

Mikkel Vestergaard

CEO Vestergaard Frandsen Group

Geoffrey Canada

Inner-City Youth & Education Advocate
More like Mo