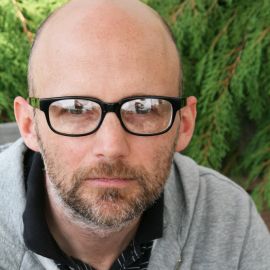 Moby is a musician and DJ. Currently he's touring in support of his most recent album, Destroyed, as well as working closely with a variety of different charities, including the Humane Society and the Institute for Music and Neurologic Function. Moby released his first single, "Go," in 1991 and has been making albums ever since. His own records have sold over 20 million copies worldwide, and he has also produced and remixed scores of other artists, including David Bowie, Metallica, the Beastie Boys, and Public Enemy, among others. Moby has toured extensively, playing well over 3,000 concerts in his career. He has also had his music used in hundreds of different films, including Heat, Any Given Sunday, Tomorrow Never Dies, and The Beach, among others.
Click Here to register and get pricing on booking Moby for your next event!
Request Pricing & Booking Info
Speakerpedia has booked over a thousand events in the past 5 years. Contact Moby's Booking Agent to get availability & pricing.
Videos
---
News
---
Celebrities Inspire Thousands To Try Plant-Based Eating During VegWeek
Thousands commit to explore plant-based eating during VegWeek by taking a 7-Day VegPledge. And they're in good company with support and inspiration from celebrities including award-winning musician Moby, actress Emily Deschanel (Bones), and actress and model Daisy Fuentes (America's Funniest Home Videos, MTV). Actress Kristin Davis (Sex and the City), actor Paul Wesley (The Vampire Diaries), and singer Mya have also shown their support for VegWeek, encouraging their fans to take the VegPledge.
Get notified of new talks and events.
Follow