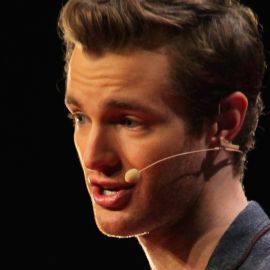 Nat Ware
An internationally-renowned speaker on entrepreneurship, innovation, nonprofits, environmental sustainability, consulting, social impact, risk-taking, and happiness/wellbeing.
Nat Ware is a highly acclaimed social entrepreneur, Oxford economist, speaker, and international development specialist. He is the Founder and CEO of 180 Degrees Consulting, the world's largest consultancy for non-profits and social enterprises, with offices in 33 countries and over 5000 consultants worldwide. Each year 180 Degrees works with over 800 hundreds of socially-conscious organizations to help them to operate more effectively and have a greater social impact (www.180dc.org). Nat is a Rhodes Scholar, Visiting Fellow at Princeton in Entrepreneurship and Economics, Goldman Sachs Global Leader, St Gallen Leader of Tomorrow, and World Economic Forum Global Shaper. He was the Top MBA Student at Oxford, received the Convocation Medal for Best All-Rounder at Sydney University (1/50,000 students), received the University Medal for Best Academic at Sydney University, and at the age of just 21 lectured the postgraduate course 'Innovation, Strategy and Global Business'. He thrives on adventure, having swum the English Channel and completed full Ironman Triathlons. He was also awarded Best Speech at the World Debating Championships (1/7200 speeches), is an internationally renowned keynote speaker, and has given three groundbreaking TED talks related to happiness, hypocrisy, social impact, and entrepreneurship.
Click Here to register and get pricing on booking Nat Ware for your next event!
Request Pricing & Booking Info
Speakerpedia has booked over a thousand events in the past 5 years. Contact Nat Ware's Booking Agent to get availability & pricing.
Videos
---
Speech Topics
---
Adventure and Risk-Taking:
How to live a fit, adventurous and memorable life (drawing on personal experiences such as swimming the English Channel and completing Ironman Triathlons)
How to reconceptualize the concept of risk so that you can embrace, manage, and deal with risks
How to challenge conventions in a way that makes the world work for you
The Millenial Mindset:
Understanding how millennials think and why they think this way
How to recruit and manage top talent
Unleashing Innovation and Utilizing Technology:
How to become more creative/innovative
How to come up with great ideas every single day
Technological trends (what will happen, and how will this affect our lives, our work, and our relationships)
New types of business models that were not previously possible
Social Impact, Non-Profits and Social Entrepreneurship:
How to have the great possible impact with your life
How to live an environmentally sustainable life
How to be the best possible consultant you can be
How to make charities and aid more effective
Happiness, Well-Being, and Personal Development:
How to be happy
Finding meaning in everyday work
How to embrace, manage, and deal with risks
How to be more productive
Lenses to live by
How to make the best decisions possible (by understanding common errors in human decision making and having the right perspective at all times)
How to live a life of no regrets
Happiness and The Expectation Gap
Why are we getting richer but not happier? Why do lottery winners not have sustained happiness? Why are bronze medalists often happier than silver medalists? Why does having more choice decrease our wellbeing? Why does trying to be happy often make us more unhappy? These are important questions to answer. Nat Ware will explore the groundbreaking research on happiness that has been undertaken at Oxford and Harvard over the past decade. Interestingly, our thinking process fundamentally differs from our feeling process, and we often unintentionally create expectation gaps - the gaps between our expectations and reality. This entertaining and educational talk will challenge you to start taking your happiness seriously, to change the very way you make decisions, and to not seduced into a way of life that conspires against your contentment. At the end of this talk you will be able to: (a) Know the underlying reason why we regularly make decisions that reduce, rather than increase, our happiness; (b) Understand the three main drivers of unhappiness (regret, insignificance, and disappointment); (c) Apply strategies for living a happier and more satisfying life, including knowing how to dealing with excess choice, how to manage risk and uncertainty, how to have the right perspective in every situation, and how to manage expectations.
Get notified of new talks and events.
Follow
Related Speakers View all
---
Po Bronson

Successful novelist, prominent writer of narrative n...

Campbell Brown

Award Winning Journalist

Todd Bischoff
Roger Cressey

NBC Counter-terrorism Analyst & Former Presidential ...

David Ewing Duncan

Internationally Best-Selling Author & Journalist

Sir Harold Evans

Legendary Publisher & Best-Selling Author

John Forte

Singer, Songwriter & Producer

Michael Fuchs

Former Chairman/CEO of Home Box Office (HBO)

Marc Ginsberg

Former U.S. Ambassador to Morocco & Fox News corresp...

Larry Julian

Best-Selling Author, Leadership Coach & Business Expert

Michelle Malkin

Award Winning Conservative Columnist, Best-Selling A...

Meghan McCain

Political Columnist, Author & Award-Winning Blogger

Byron Pitts

CBS News Chief National Correspondent, Contributing ...

J. Zink
William K. Reilly

World Wildlife Fund Chairman Emeritus & Co-Chair, Na...

Winston Scott

Former NASA Astronaut

Tiffany Shlain

Filmmaker & Founder of the Webby Awards

Rebecca Skloot

Award Winning Science Writer, Author "The Immortal L...

Sir Howard Stringer

President, Chairman & CEO of Sony Corporation

Jonathan Tisch

Chairman & CEO of Loews Hotels, Leading Authority on...
More like Nat